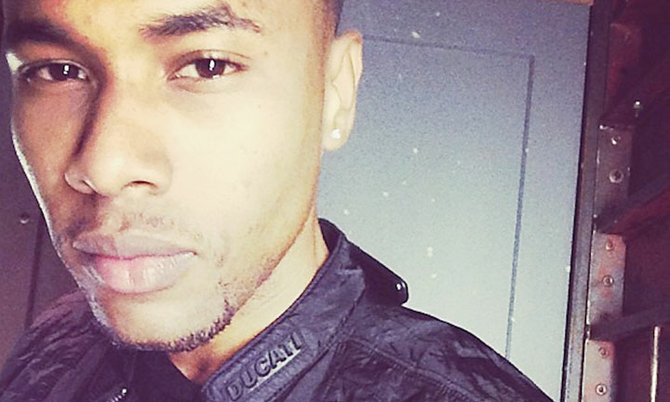 By FARAH
Tribune Features Writer
jgibson@tribunemedia.net
ONE of many local artists seeking to solidify their place in the world of music, Sketch Carey is working diligently to make his mark.
A few weeks ago, the singer, songwriter and producer released a new single called Wine Like A Champion. The song fuses elements of Junkanoo and Soca which he dubbed "Socanoo".  
Sketch said he believes the song "will take the Bahamas to the world".
While a release date has not been set yet, Sketch told In Ya Ear a video for the song is coming soon and will feature women from all around the world "wining like a champion".
"Women from the Bahamas to Trinidad to China will be part of this video," he said. "This is a movement and I am focused on making history."
Apart from working on the release of the video, Sketch said most of his time is spent in the studio building his music portfolio. And, in the coming months, fans can expect a lot of surprises from him including a collaborative single with Jamaican reggae artist Jah Cure.
"A couple months can do good damage," he said. "I am always working and I move fast and strategic. I can do songs in a day so the next couple months I am attacking and winning. There will be new music and new opportunities because I have to keep on pushing.
"I am always open to working with new talent. I have been working with new acts and giving them good product. Once the artist is happy I am happy. I also got the opportunity to work with Jah Cure which is a blessing," he added.
Sketch is also preparing to perform in Jamaica, Trinidad and China and is in the process of planning a tour.
He is also working on an extended play album which will feature Wine Like A Champion and several other unreleased singles. Each of the records, he said, will display a different side to him.
The Bahamas and New York are home-central for Sketch. In New York he is focused on getting a major record or publishing deal.
He has worked with the likes of Jerry Wonda, Keri Hilson, Sean Kingston, The Soundkillers (who have produced records for Beyonce), Bow Wow, Keyshia Cole, Flo Rida and more.
He is also featured on Bandz, a single by international artist Boola, and is collaborating with local musicians including his big brother Rik Carey, a member of Bahamen.