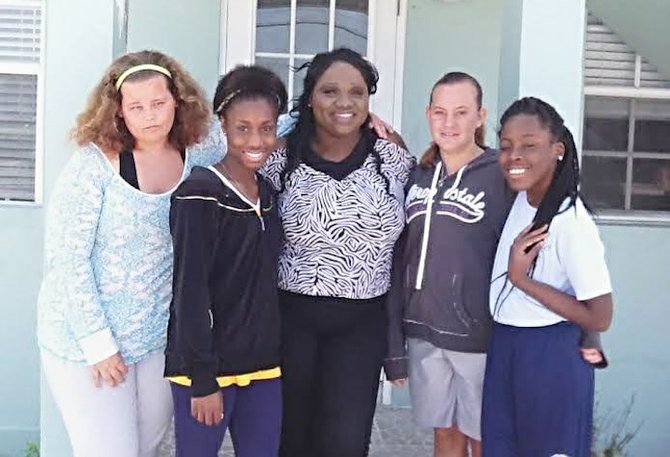 By JEFFARAH GIBSON
Tribune Features Writer
jgibson@tribunemedia.net
TIFFANY Rahming vowed that when she became a teacher more than a decade ago that she would tread a path of excellence – imparting wisdom, providing direction and shaping the dreams of students.  
Specialising in mathematics, Ms Rahming has come into contact with many students at various schools in New Providence over the years, including at Mount Carmel Preparatory Academy, Church of God Academy and Christian Heritage Academy.
She has now fulfilled her dream of opening her own school, the Trinity Preparatory Academy in Abaco, which offer grades 1-12. As of September, the school will also offer classes starting at the K3 level.
The school opened a few months ago and its mandate is to ensure every scholar, as her students are referred to, "walks through our halls, leaves with an abundance of knowledge, self-respect and self-confidence."
"I had lots of bad experiences with teachers while growing up; very few that motivated and encouraged me, but instead judged me based on the fact that I was outspoken and not one to take advantage of. I made it my ultimate goal to be different, to become an educator that wanted only the best for scholars when they did not want the same for themselves.
"My heart is filled with numerous of ideas and opportunities I would like to share with the present generation and the generation to come. Opening the school stands as an opportunity to release my ideas and assist as many young scholars as I possibly can in achieving their goals and making their dreams reality through college acceptance and work preparedness for the world ahead of them," said Ms Rahming, who serves as the school's principal, told Tribune Woman.
She said Trinity Preparatory Academy is a technology-based institution where students work primarily from their laptops, iPads and or any other smart device. She said this method allows the students to work at their own pace and level.
"Every individual learns differently and with different methods. We allow our scholars to use methods that will indeed enhance their learning experiences and take them to the next level," she said.
As some schools in the Bahamas are now incorporating nontraditional and unconventional teaching methods in lessons, Ms Rahming believes that by zeroing on the special aspect of teaching will allow students to have a better learning experience and enjoy the classroom activities more.
"I hope to of course impact the scholars in Abaco positively, transforming them into 21st century leaders through technology and globalisation. Through my studies and research it was observed that technology in the classroom has been in schools in the United States for some 20 years now. It is my hope and dream to bring our Bahamian scholars on par with the rest of the world, training and transforming them, thus allowing them to stand as a leader in any part of the world they so desire to study and or live," she said.
While technology and unconventional teaching methods have the potential to improve the experience for students, Ms Rahming said she knows that ultimately a student's success lies in her ability as a teacher to take the time to mentor them in a loving caring manner.
Like many teachers, Ms Rahming said she feels the most joy when her students are successful.
"I get the most joy when a student of mine that was once struggling in a subject area can show off their improvement through increased grades in that particular subject; when a student can show off their BGCSE results with passes, show off their college acceptance letter, or better yet, show off their job that they love and enjoy. The most joy for me comes from knowing I did for many students that what was not done for me," she said.
"Passionate educators like myself and many others commit our time, energy and efforts into ensuring that every scholar that passes through our time of teaching obtains the best quality education and guidance that we can possibly offer."
Ms Rahming said she believes teaching is a path that should only be taken by those who have feel they have a calling for it.
"Only enter the field if this is in fact your calling. We have too many educators that are in the field and do not truly care about the success of the scholars for which they become responsible for. At the age of 10 I decided I wanted to become a mathematics teacher and that has yet to change to date. Teaching and moulding the minds of scholars has always and will always be my personal commitment to my Bahamian scholars. I advise all aspiring educators to remain committed to the field and bring forth a new breath of fresh air to the field. I believe that Trinity Preparatory Academy will create a new era of educators that will indeed take learning to a new level, and I hope to be in contact with or associated with aspiring teachers to come," she said.
Ms Rahming completed a Spanish course at the Facultad de Ciencias Médicas in Cuba. She also studied Education at the Bahamas Baptist Community College and the College of the Bahamas.
In the years to come, she hopes to complete her master's degree and obtain a PhD in the field.
She has taught English, accounts, mathematics and computer studies.