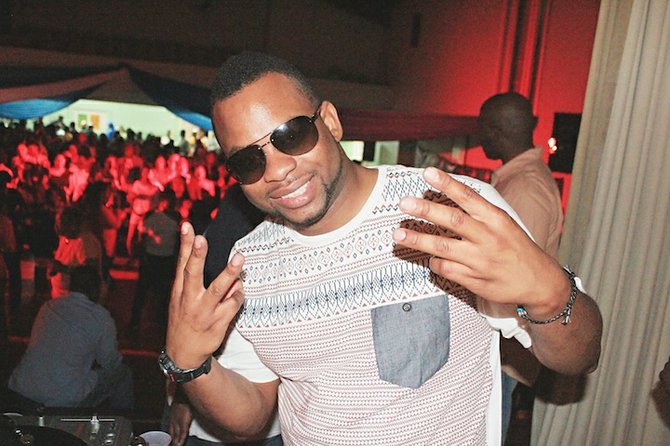 By FARAH
Tribune Features Writer
jgibson@tribunemedia.net
BAHAMIAN musician Avvy, known for his popular hit "Dirty Nagua Rake", is embarking on a new phase in his career.
Just recently, the singer entered into a marketing partnership with Pineapple Air, which he said is another milestone for him.
But this collaboration with a corporate entity is not the first for the artist; Avvy also collaborated with BOB sometime ago in a similar effort.
By partnering with Avvy, the locally owned airline hopes to revamp its brand and widen its customer base between Nassau and Eleuthera.
"The owners of the airline are very passionate about their Eleuthera flights and they want the message to be, "When you think of Eleuthera, you think Pineapple Air will get you there...The sweetest way to fly," he told In Ya Ear.
The partnership is among several projects the young artist, who hails from Great Inagua, is working on. In the upcoming months, he will reveal to fans all of his endeavours, he said.
Next month, the musician will release "The Best of the Best Kept Secret Vol  2.1", which is the continuation to is "The Best of the Best Kept Secret Vol 1".
Avvy introduced himself to the Bahamas almost 10 years ago with the debut single, "Roach on My Bread". Ever since, people have come expect inventive storytelling from his music.
Although he is a young artist, Avvy's music blends the sounds of 'old time' Bahamian music with the new, making him a forerunner in the next generation of Bahamian music.
Avvy began actively writing music in 2005 and preformed his first song that at the Great Inagua Homecoming festivities. With the encouragement of family and the support of the public, he decided to make his music available to the nation.
"My biggest motivation comes from the reaction of my fans. They keep me going. I know it is a cliché answer, but in all seriousness, fans do not really understand the value they add to my inspiration," he said.
Avvy currently has two songs on rotation that are topping the local charts: "Dirty Nagua Rake" and "Swing Swing".
"This is the most excited I have been since I released songs off of my first album. They are currently number one and three on the charts," he said.
"My music is inspired by our culture and the day-in/day-out comical activities/stories that Bahamian's do naturally. I love sitting down in the neighbour's yard or by a park and watch our people be our people. We are an inspiration unto ourselves," he said.
The inspiration of his songs, he said, comes from family, friends, relationships, and his ability to sit back and observe things that are going on in his community. 
Avvy's role models are his parents and immediate family members, especially his father, who was also a musician and played for several bands in Inagua. He also has uncles who sang old rake n' scrape songs in the 1940s, 50s, 60s, up until the early 70s.
"The music game is extremely competitive despite its size compared to the rest of the worldwide industry. That being said, I am working on several different projects right now," he said.
"It is a real difficult job maintaining the Avvy brand, but I thank my powerful team, including Eric Gibson (manager), my photography crew and Tamara Jones (stylist) and my web, graphics and social media team managed by Brand 300."
Avvy is trained in musical instruments such as the drums, recorder, bass horn, trombone and baritone. 
His musical influences come from artists such as Cee Lo Green, Bruno Mars, Michael Jackson, Otis Redding, James Brown, Ronnie Butler, Phil Stubbs, KB, Sizzla, Buju Banton and more.