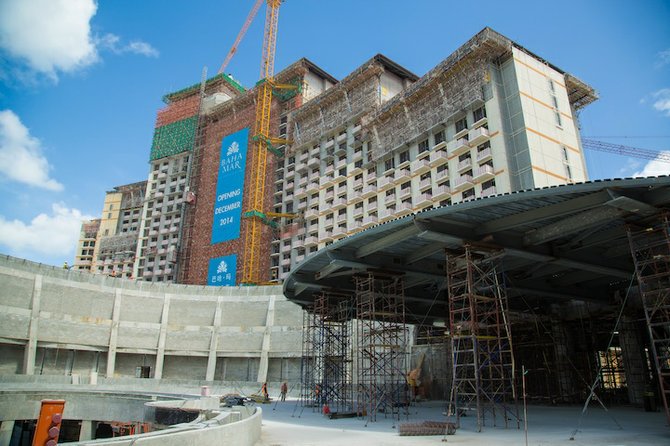 By NEIL HARTNELL
and RASHAD ROLLE
BAHA Mar, the $3.5 billion mega resort at Cable Beach, has delayed its grand opening from the end of this year until "late Spring" 2015. Instead the development is to open in stages from December onwards.
Robert Sands, Baha Mar's senior vice-president of government and external affairs, told The Tribune yesterday the priority was to "get the guest experience right first time". He said it was "not uncommon" for projects of Baha Mar's scale to undergo a phased, or staged, opening and that the push back of the date had not been caused by construction delays or problems.
Baha Mar president Tom Dunlap outlined the developer's opening plans in a letter to employees yesterday obtained by The Tribune. He wrote that "we expect to have the full Baha Mar destination resort open for our guests" in late Spring 2015.
Mr Dunlap gave no specifics on which parts would open when, and in what order, telling Baha Mar staff: "We are in the process of determining what areas will open at specific dates between December and the Grand Opening celebration. We're working through the details with our partners, and expect to know more by October."
Work began three years ago on the development, which includes four new hotels - the Baha Mar Hotel & Casino, the Grand Hyatt, Rosewood and SLS Hotels branded properties - and numerous associated amenities such as a convention centre.
Until recently Baha Mar officials have maintained that the resort would open in full rather than in stages in December. In April the resort's Chief Marketing Officer Denise Godreau dismissed concerns and in late May, Mr Sands said the December 8 opening date was fixed "and we are progressing very quickly to ensure that happens." Mr Sands said then the resort was about 80 per cent complete and would start taking room bookings on July 1.

Concerns were raised about a possible delay in the resort's opening earlier this year after Morgans Hotel Group Management terminated its hotel management agreement with Baha Mar. It was one of three hotel management groups that Baha Mar inked deals with in 2011 to manage its properties.
The Minister for Tourism Obie Wilchcombe said yesterday he was neither surprised nor concerned that Baha Mar will not open in full in December. Despite the recent public assurances from Baha Mar officials, Mr Wilchcombe said that it was always anticipated that the resort would have a "soft" opening in December and open gradually.
"We're not taken aback by it because they said it," he said. "That was anticipated. We've spoken about that. They're going to open in December like a preview. That said to me a gradual process. It was left to interpretation. The truth is it's a mega resort going on there. I would prefer to take our time and stay our course. My team is busy. We feel very good."
Mr Wilchcombe said he is pleased with the progress the resort is making towards completion. "It helps us in work we have to do in terms of marketing and airlift," he added. "They've begun the process of preparation and training. We're pleased with airlift response and it's important we have that in place and rooms occupied along with our product."
"The truth is it's going to open," he said. "But they're making a strategic move. We're working with them."
However Darron Cash, chairman of the Free National Movement, said the delay was disappointing and blamed the government's failure to implement new gaming laws as a factor.
"It would not be an understatement to say that thousands of Bahamians have been holding out hope that this project would open on schedule and that it would be a significant turnaround in the presently disappointing employment picture," he said last night.
"We are left to wonder the extent to which the Christie government's failure to enact an overhaul of our country's outdated gaming laws had anything to do with this delay. Baha Mar has long been described as a resort development within a casino. The casino - and more importantly a leading edge and competitive casino - is an integral part of the Baha Mar business model.
"We have to think that the government's failure to update the laws and give Baha Mar the lead time necessary to sell their product might have been a factor in their decision to slow down the rather aggressive pace they had been following.
"We hope to hear more details about the reasons for the delay, but the Prime Minister and Minister of Finance must accept full responsibility for the delay. Given the significance of this project to the Bahamas the Prime Minister had an obligation to deliver this project on time. The Prime Minister is late again."
When complete the resort will include a 100,000 square foot casino, an 18-hole, 72-par Jack Nicklaus Signature Golf Course, an ESPA at Baha Mar spa and more than 12 pools. Officials have said the resort will hire around 4,000 employees this year.