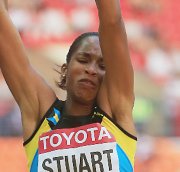 By BRENT STUBBS
Senior Sports Reporter
bstubbs@tribunemedia.net
GLASGOW, Scotland — At the same time that Jeffery Gibson was earning the first medal in track and field for the Bahamas at the 20th Commonwealth Games, Bianca Stuart watched as her chances of another slip away.
The top qualifier in the preliminaries of the women's long jump the day before with a season's best of 6.67 metres or 21-feet, 10 3/4-inches, she survived the final cut of eight for the final round at Hampden Park National Stadium on Thursday.
However, she wasn't able to move up the ladder in the three remaining of the competition that started in the rain and had to settle for eighth place with her best of 6.31m (20-8 1/2), which came on her third attempt.
The gold in the event went to Ese Brume of Nigeria with a leap of 6.56 (21-6 1/4), while the silver went to England's Jazmin Sawyers with a season's best of 6.54m (21-5 1/2) and Canada's Christabel Nettey picked up the bronze with 6.49m (21-3 1/2).
"I don't know, I don't want to blame it on the weather, even though there was some inclement weather out there," said Stuart, who started off the competition jumping 6.43m (21-1 1/4) as the first competitor on the runway.
"My body was getting cold out there and I was trying to stay as warm as possible, but I just didn't have it today. I guess they stayed a little warmer than me."
It was the first time that Stuart has made a final in any of the prestigious international outdoor meets, including the 2010 Olympic Games in London, England, and the 2013 IAAF World Championships in Moscow, Russia.
"I just want to thank God for allowing me to get through another meet healthy and for me to make it to the final," said Stuart, an eighth place finisher at the 2012 IAAF World Indoor Championships in Istanbul, Turkey.
The 26-year-old Queen's College graduate who went on to excel at Southern Illinois University thanked her parents, coach Henry Rolle, her family, friends and the Bahamian people who supported her through her journey.
Stuart even had some extra help on the sidelines as Leevan 'Superman' Sands was in the stands with coach Peter Pratt providing some tips to adjust her approach.
"It was a little cold, but I was trying to be a little cautious," said Stuart. "I should have gone all out, but sometimes things just happen the way it did."
While she didn't secure the medal, Stuart said she was happy to be on the field at the same time as Gibson brought some glory to Team Bahamas in the men's 400m hurdles final with his bronze-medal performance.
"I'm so happy for him. That was great. He also broke the national record. That is wonderful," Stuart said. "He worked very hard. He deserves that medal. He is a very nice guy, so sweet. I love Jeffery."
Now that she's done, Stuart said she's going into the cafeteria at the Games Village to indulge herself in as much of the dessert as she possibly can. She can do that now that her next meet, which was scheduled for Brazil, has been cancelled.
"I will have to talk with my agent and see if there's anything up, if not my season will be done," she said.
"I will pass up on CAC (in November in Mexico) and I will get ready for Pan Am next July and the World Championships in August."