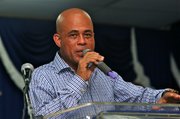 By RASHAD ROLLE
Tribune Staff Reporter
rrolle@tribunemedia.net
FORMER Assistant Commissioner of Police Paul Thompson says Haitian President Michel Martelly is "insincere" about his illegal immigration concerns, suggesting that Haiti's law enforcement agencies could do more to prevent illegal human trafficking from that country.
In a letter to the editor that appears in today's Tribune, he said: "It is my opinion, with all due respect, that President Michel Martelly is insincere about his concerns over his nationals taking the dangerous journeys on boats to come to the Bahamas."
"I have lived in the Bahamas since 1951," he said, "and there have been numerous such meetings between our governments and Haitian governments on the subject. Over the decades between President 'Papa Doc' Duvalier and his successors many promises were made,  but never kept. There was a plan to recruit Haitian labour in Haiti, which never materialised. No assistance has been forthcoming from Haitian governments to deal with illegal immigration and the invasion of the 'boat people.'"
Mr Thompson said his work in Haiti during his career left him impressed with the country's Intelligence Unit.
"I am convinced," he said, "that if the government of Haiti were interested in eradicating human trafficking and the dangers to which their nationals are exposed, the Haitian police and army could do so promptly and expose the traffickers in the Bahamas and Haiti."
President Martelly was recently in this country to sign several bilateral agreements with Bahamian government officials in an effort to boost investment in his country. The president has argued that boosting his country's economy could, in the long term, deter the flood of illegal immigrants into the Bahamas and other countries.
While speaking to reporters this week, he said: "Every time a Haitian dies trying to get a better life, at the level of the state we feel like we're responsible for not doing enough and yet we are doing enough."
• Click HERE for Mr Thompson's letter in full.