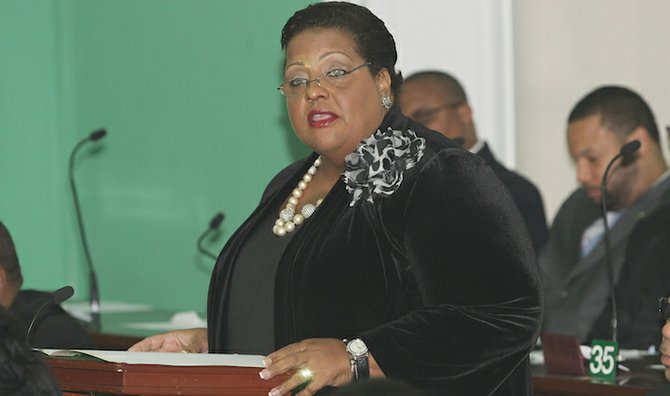 By KHRISNA VIRGIL
Tribune Staff Reporter
kvirgil@tribunemedia.net
FNM Deputy Leader Loretta Butler-Turner yesterday branded comments made by Tall Pines MP Leslie Miller over the Constitutional amendment bills "misogynistic" and said the remarks are a testament of his "unenlightened thinking".
Meanwhile, PLP Chairman Bradley Roberts insisted that all Bahamians of "good will" should support the government's push to achieve gender equality and added that he is not concerned about Mr Miller's controversial comments.
However, Mrs Butler-Turner said the government is now faced with the challenge of reaching a consensus between its party and supporters because Mr Miller has spoken negatively of one of the issues to be addressed in a constitutional referendum.
When contacted by The Tribune for comment, Mrs Butler-Turner said she was hopeful that Mr Miller's opinions would have no impact on the outcome of the referendum slated for November 6.
"I hope that people will just relegate his comments to another era and unenlightened thinking," the Long Island MP said yesterday. "When you really look at it, it is an insult to Bahamian families. I hope people just dismiss the comments. The fact of the matter is the statements just belong to a different era. Certainly not the way in which this country is heading."
On Thursday, Mr Miller said that a Bahamian woman who marries a foreigner should be taken to her spouse's home country and supported by her husband.
"If my sister marries a foreigner, I expect for that foreigner to take her home to his country and support her," Mr Miller said as a guest on Star 106.5 talk show "Jeffrey".
"What they bringing him here for? Don't come to my country and take a job from one of my Bahamian brothers. You are responsible for your family. If I get married to a foreigner, she is coming here with me. A man is the head of his house. He is supposed to be responsible for his family."
Yesterday Mr Roberts suggested he was unconcerned about Mr Miller's reservations on gender equality.
"The government and the opposition are at one on the matter," Mr Roberts said. "I don't see why it should be a political football. All Bahamians of good will should be in support, including every single woman. I am not interested in what my colleagues have to say. The government and the opposition agree and that's all there is to say on that matter."
Four bills to amend the Bahamas' Constitution were tabled in the House of Assembly nearly two weeks ago and if passed will cause for a referendum on equality between Bahamian men and women in matters of citizenship.
Mr Miller's controversial comments referred to the second bill which will enable a Bahamian woman who marries a foreign man to secure for him the same access to Bahamian citizenship that a Bahamian man has always enjoyed under the Constitution in relation to his foreign spouse. The Bill contains provisions designed to ensure foreigners, male or female, who enter into bogus marriages with Bahamian citizens, will not be assisted by this constitutional change, Prime Minister Perry Christie has said.
The first bill would enable a child born outside the Bahamas to a Bahamian woman to have automatic Bahamian citizenship at birth. Presently, only those born in another country to a Bahamian father are able to have automatic Bahamian status. However, under the amended bill a child can also take the mother's Bahamian nationality, even though the father is non-Bahamian.
The third Bill seeks to remedy the one area of the Constitution that discriminates against men based on gender. Presently, an unmarried Bahamian father cannot pass his citizenship on to his child born of a foreign woman. The Bill will give an unwed Bahamian father the same right to pass citizenship to his child that a Bahamian woman has always had under the Constitution in relation to a child born to her out of wedlock. However, proof of paternity by one of the methods prescribed by law is required.
The final Bill will end discrimination based on sex. This involves the insertion of the word "sex" in Article 26 of the Constitution to make it unconstitutional to discriminate based on whether someone is male or female.