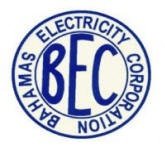 By KHRISNA VIRGIL
Tribune Staff Reporter
kvirgil@tribunemedia.net
AFTER a small percentage of Bahamas Electricity Corporation customers were left without power on Monday, officials predicted yesterday that residents in New Providence will not experience any disruptions to services as the week progresses.
However, BEC spokesperson Arnette Ingraham explained that while the corporation did not foresee any issues with their power generation network, she cautioned that any number of unforeseen challenges could cause temporary interruptions.
Ms Ingraham said: "Right now, at this very moment we are optimistic that it (electricity disruption) won't happen because as it stands moving forward we don't foresee any issues on our power generation network.
"But things happen. There could be any number of issues. Someone could hit a pole, there could be issues at the substation or lightning could strike. Right now we believe that we have sufficient capacity to meet the demand right now."
BEC issued a statement on Monday night advising customers that they were experiencing challenges on its generation network. Officials said electricity was fully restored by 1am yesterday and that none of the affected areas were without power for more than two hours.
At the time, BEC said: "Teams are presently working to resolve the problem and expect that there will be full restoration within the next four to five hours. Until that time, a small number of customers in New Providence may experience short periods of supply interruption.
"BEC notes that approximately 10 per cent of its customers in New Providence would be impacted by the outage. The corporation sincerely apologises to its customers and ensures them that its teams are working aggressively to restore supply in the shortest possible time."
On Friday, the Lynden Pindling International Airport (LPIA) experienced a brief stint of darkness after an engine at the Blue Hills power station tripped. That issue also left areas, including Fire Trail, Carmichael Road, East Street South, Pinewood Gardens, Market and Palmetto Streets, Marshall Road, Sea Breeze and Imperial Park without power.
That power outage came after thousands of BEC customers were left without electricity for more than eight hours last Monday because of "generator challenges" at the Blue Hills plant. It interrupted the supply to 50 per cent of customers in eastern, western and some parts of central New Providence.