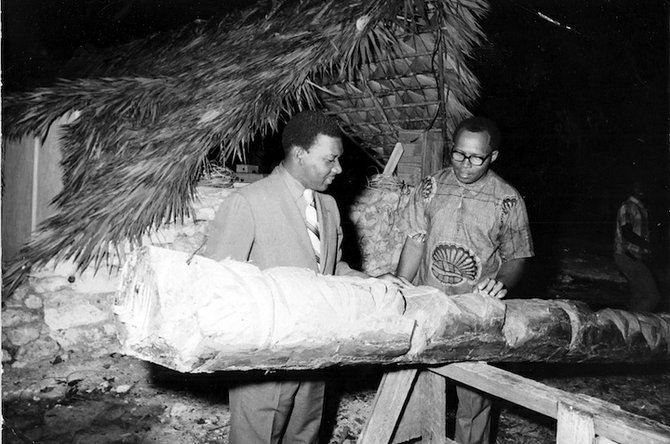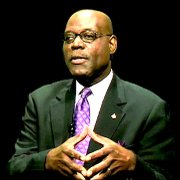 Broadcaster Anthony "Ace" Newbold pulled no punches as he paid tribute last week to Edmund Spencer Moxey, his friend of 30 years, whose dream for his people was cruelly smashed by his political colleagues in 1987.
Mr Newbold, one of several speakers including the prime minister and leader of the opposition, told mourners at the state funeral service for the 80-year-old community leader about the "man with a big heart." The service was held at the parish church of The Most Holy Trinity in Stapledon Gardens last Friday.
Although not wanting to "step on any toes", Mr Newbold, director of the parliamentary channel for the Broadcasting Corporation of the Bahamas, said that in telling the Moxey story he had to be faithful to the memory of his friend.
"In the end," he said, "I could only be what I am, and as for stepping on any toes, if you did not do right by Ed Moxey and you come to his funeral you have heard some of these words before and you will probably hear some of them again.
"Most of them are mine and some of them belong to Mr Shakespeare.
"I wanted to get that out there because even though I'm not running for the presidency of anything this morning, I know how we go ... I don't want anyone to go from here saying, you hear 'Ace' Newbold this morning trying to claim these words so ...
"Friends, Bahamians, countrymen lend me your ears. I come to bury Edmund, I also come to praise him. They say that the evil that men do lives after them, and the good is oft interred with their bones. Normally, that may be true, but I, for one, I refuse to let it be so with Edmund.
"Our leaders said Edmund was ambitious, out only for himself, but he put his family on the line - and were they ever on the line!
"When he gave up a good paying job to run for the PLP, who, while they were speaking for the people when the name was still associated with rabble rousers and ne'er-do-wells, and they were considered the outcasts and pariahs of society!
"But our leaders said Edmund was ambitious and had to be stopped and punished ... and so they did ... and our leaders were all honourable men.
"Not long ago I described him as one of the last of the warrior class of Bahamians. They don't make them like Edmund Moxey anymore, courageous and consistent. That package of 'muscle and guts' was real! They said Ed Moxey was ambitious, but after not seeing the deliverance for his people promised before the victory in 1967, he sought the help of his Coconut Grove community.
"The results were there for all to see – the Jumbey Festival, the Coconut Grove Community Centre and eventually the Jumbey Village!
"The only real, true, true representation of a Bahamian village that was ever built, and one that was unceremoniously, ungracefully, and disgracefully swept from the Bahamian landscape 27 years ago. But they said he was ambitious, out only for himself. And all of our leaders were honourable men.
"It is said 'where there is no vision the people perish' and some would argue that there was always a vision for the Bahamas and indeed, that we did reap many benefits.
"There is another saying though, 'sow the wind, reap the whirlwind'. The blueprint for social, economic and cultural reconstruction, envisioned by Edmund Moxey and Carlton Francis in 1977, with an assist from Oscar Johnson (they eventually gave it to the BDP, but J Henry did not get a chance to use it!) this plan, along with Jumbey Village, was all part of another vision that was ignored to our peril.
"We are now reaping the whirlwind. Emancipation Day is a few days away – that is what Ed Moxey was trying to do!
"Instead of focusing on building upon, exposing and exploiting our culture, through the Jumbey Village concept envisioned by Ed Moxey, our leaders chose to be spiteful, to be cruel.
"I found out, long after the fact, that my convention manager at the Cable Beach Hotel in 1984, where I was privileged to serve as the regional director of sales for the Wyndham Hotels, was threatened by some cretinous operatives with all sorts of unspeakable things if he hired Ed Moxey to play for one of our functions. Thank God he told me long after it happened!
"Prime Minister Christie, Dr Hubert Minnis (Opposition leader), this kind of vermin has infected the body politic for far too long. You must do what you can to stamp it out. I call both of you because it comes from both sides! Prime Minister, on every occasion you have, you continue to decry the dearth of Bahamian stories, stories that tell and retell the history of our people and hence our country!
"Back in August 2010, four years ago this month, I was tickled pink to have the great Ed Moxey call and invite me to help tell his story.
"What a special privilege! Here I would normally tell a joke about black men turning pink, but I will forgo that this morning!
"But he called and invited me to write and help to tell the story of his life - some of it anyway - with a particular focus on Jumbey Village. It took me nearly two years to write a 19-page, single space script that he was comfortable with, because I'd write it and take it to him and he would look at me and ask who I was writing about.
"But I got an unexpected and invaluable gift from the exercise, I gained his trust! Finally, he said, 'now ya talkin'. There is no price for that! Kevin Turnquest, Vaudio Productions, did yeoman's work as the technical producer and editor, which incidentally won the Ft Lauderdale International Film Festival's 2012 documentary award. We finally got it into a theatre at the College of the Bahamas, and then there arose another of Ed's big disappointments.
"No member of the House of Assembly saw fit to attend. Ed probably expected it, but I could see the disappointment in his eyes. I was ticked is the word I am going to use today. The working press was no better! They did not show up either, thereby guaranteeing that they would be ignorant just a little bit longer about things cultural, unless you were shaking up yourself on Bay Street at Christmas!
"But, we were still hopeful. A particularly brave young lady at the Ministry of Education, who shall remain nameless – I know how we go in this country – attempted to buy 200 copies for distribution to the schools!
"Well, I am sure when they found out they must have asked her outright: 'Have you lost your mind?' There was no sale to the Ministry of Education, and so there will be more persons like the 41-year-old man who camped out in the lobby of The Nassau Guardian waiting for me to get off the air, in order to get a copy, because in all of his life, he had never heard of Edmund Moxey before the Tuesday morning after he died!
"I told the story, Mr Christie, but the people who work for you and all prime ministers before you have kept it away from the children! I don't believe you want that Mr Christie, not what I know about you! I don't believe you ever heard about this!
"'The Price of Being a Man' is the name of the documentary: 'The story of Ed Moxey and the undoing of Jumbey Village and the cultural revolution.'
"I was asked by a colleague why such a heavy and negative title.
"I asked her, what was not negative about what happened to Ed Moxey and his family?
"I pay tribute today to Ed Moxey and his dream, which was to highlight what is good about the Bahamas, and one of the reasons I liked Ed was that he was not afraid to tug on Superman's cape, if, as he said, he believed in the rightness of the cause.
O
ur last project together, which I was supposed to discuss with him on the Saturday before he laid down his sword and shield for the last time, was supposed to be one more tug on the cape. Ed planned to address the House of Assembly from the bar. While I would have given the Speaker a heads up before it happened, Ed was going to test rule 93 – 11.
"It may very well have gotten us both arrested! But he believed and he made me a believer, in the rightness of the cause. I also told him, that as far as I know, the Speaker is an honourable man, and would have treated him accordingly.
"So friends, Bahamians, countrymen this has been my tribute to Edmund Moxey.
"I believe that this country will never be able to repay him or his family for the wrongs done to them. I believe the trials of Ed Moxey and his family should lay on the collective conscience of the Bahamian people for all eternity.
"Does he deserve a street? A building? If we had a cultural Mt Rushmore, say, in Cat Island, at Mt Alvernia, because that is as close as we are going to come to having a mountain, Ed Moxey would have pride of place. He would have the George Washington position! Unfortunately for Ed Moxey, he was imbued with an unending wellspring of genius for all things cultural that would be misunderstood and unappreciated for most of his life. Fortunately he was also blessed with an invaluable gift for music that so often tempered his disappointment.
"As some of you know, Ed Moxey had a wicked sense of humour and in spite of all of the pain and disappointment, he could still find joy. And so that is how I choose to remember him.
"This man who had a big enough heart to offer an olive branch to those who tormented him.
"He told me one day about a meeting with a senior politician (not you prime minister) he was promised that never happened and he didn't understand that he was being played until Sylvia (his wife) pointed out to him that the day of the supposed meeting was actually April Fool's Day! Disappointed, but he had a big laugh about that!
"Someone threw out a challenge on Facebook the other day. Tell me, he said, what is a Bahamian?
"Ed Moxey was a Bahamian! He had some properly seasoned boil fish running through his veins, the dirt from Ragged Island anchoring his feet and the sweet sounds of the goat skin drum, the saw and the accordion running through his head, as he saluted the Bahamian flag, paying allegiance to no other country on this earth, as he fought for it until the day he died. Ed Moxey personified the true, true Bahamian, and so I salute him this day! And you too, Sylvia, for 57 years of love and support!
"Because we are in church, most would say that Ed is now in heaven. I have absolutely no idea where he is, but I believe by now he must have had a serious conversation with whomever arranged this trip, to point out that he certainly earned his stripes on this one.
"Hold off for a while, I believe he said, 'I ga rake and scrape right here!'
"Here was Ed Moxey ... when comes such another? Wherever he is, may he rest in more peace than he had on this earth."
• SEE EDITORIAL HERE