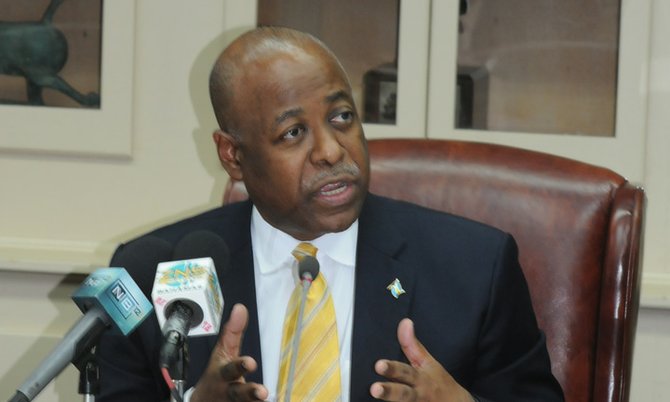 By RASHAD ROLLE
Tribune Staff Reporter
rrolle@tribunemedia.net
TOURISM Minister Obie Wilchcombe yesterday said local banks are responding well to efforts to implement the new gaming regime following a "positive" outcome to interactions between the government and Financial Action Task Force representatives.
He also dismissed as untrue reports that web shop bosses will be required to pay $3 million in startup and licence fees in their initial year of startup. 
A local tabloid had reported that the government would only issue four web shop licences and that web shop bosses would have to pay $3 million each to operate a maximum of 10 online web shop casino outlets. 
However, Mr Wilchcombe said: "The fees to be administered to webshops is still a subject of discussion but no reasonable consideration would be given to any fee of around $3 million."
And as for the number of licenses to be issued, he said: "We have not determined how many licences to be given as yet. That will partly be predicated on the number of companies responding with a desire to get one." 
When contacted, lawyer Wayne Munroe, who represents six webshops, also dismissed the media report about the startup and licence fees web shop bosses would be required to pay and emphasised that deliberations on the Gaming Bill are still in their consultation stages, with nothing finalised as yet. 
However, without sharing details he said he and his clients are not happy with what has been proposed so far during their consultation meetings with government officials.  
In response to this, Mr Wilchcombe said: "I think they'll be fine. They're very respected lawyers. We will consider their positions but at the end of the day they're working for their client and we're working for the state." 
As for addressing the money laundering concerns that have made banks reluctant to support the impending gaming regime, Mr Wilchcombe said: "It's been pretty good with the banks. We have to find ways to satisfy their concerns about integrity. We've made progress. The FATF has given us fair responses to issues we've raised. We've been advised that some things can't work from a global standpoint, but we have gotten to the point where we are near completed." 
Mr Wilchcombe said the Gaming Bill will be tabled after Parliament's current agenda is cleared.