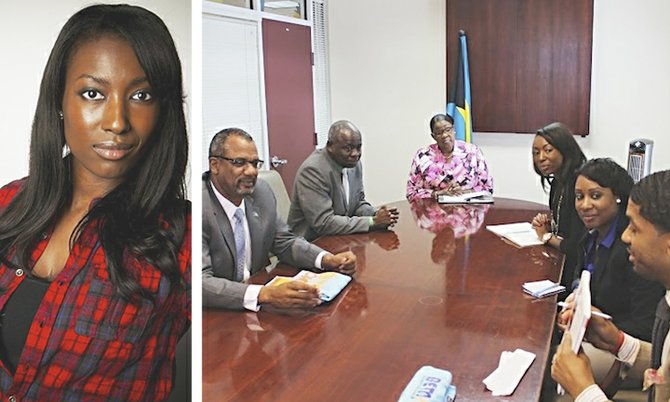 By JEFFARAH GIBSON
Tribune Features Writer
jgibson@tribunemedia.net
A LONG-TIME dream to spark in Bahamian children a greater interest in science, engineering and technology was finally fulfilled this summer as aerospace engineer and air transportation expert Aisha Bowe returned home to host a special camp for young people.
Presented by STEMBoard, of which Aisha is a co-founder, and the Bahamas Engineering and Technology Advancement (BETA) consortium, the inaugural camp was deemed a huge success.
Aisha, who is the first Bahamian woman to work at NASA, spearheaded initiatives to engage children in STEM (science, technology, engineering and mathematics) fields.
One of the objectives the camp achieved was bringing the traditional together with the cutting edge.
For one of the tasks, the BETA Camp participants were asked to explore avenues to make Junkanoo parades safer and the whole process a more efficient one.
Looking at this traditional expression of Bahamian culture in a new way, the youngsters came up with high-tech solutions to improve the experience for all involved.
"My group came back and said, 'Hey, drones would be a great way to improve Junkanoo by providing safety as well as providing an enhanced experience for the viewers'," Aisha said.
Aisha believes the camp accomplished what it set out to achieve – exposing students to a wide range of opportunities that are available to those who pursue careers in science and engineering fields.
"The camp exceeded the number of students we expected would attend. We have had a wonderful amount of participation from the community," she told Tribune Woman.
"The kids have gained a lot of exposure to the engineering field. The gist of the camp was to have the kids work on hands-on projects. Many of the students have never built a rocket using baking soda and vinegar or a complex machine. This was something they did and they have been enjoying the hands on experience. In addition they were given projects relating to living in the Bahamas. The computer and science kids were exposed to HTML and they built their own computer programme. The electrical engineering kids each had their own objective so some of them even made candy. Each stream had their own contribution to the camp."
Aisha is a researcher at the NASA Ames Research Centre in California, where she focuses on developing methods to improve air traffic management to make air travel safer, cheaper and more efficient. Since joining NASA in 2008, Aisha has authored and co-authored several research papers on aircraft trajectory prediction uncertainty and optimization of fuel consumption.
Aisha's position at NASA has given her the opportunity to advocate for students pursuing STEM careers.
She is heavily involved in mentoring, volunteering and public outreach. For the last three years she has served as the agency's liaison to the board of the San Jose State University Mathematics, Engineering and Science Achievement (MESA) programme. MESA is designed to prepare educationally disadvantaged students throughout California to successfully pursue college preparatory course work and promote careers in math and science. She is also involved in agency initiatives, including a filmed NASA segment about her educational and work experiences. In addition, her community service efforts have also been featured by various media outlets.
Before becoming a successful aerospace engineer, Aisha was unsure of the path she would take where her career was concerned. With helpful advice from her father and the guidance she received from others, things began to fall into place.
"I found myself in college without clear direction and my father convinced me to take a math class. Prior to taking the math class, I took a class at the community college and I was not interested in pursuing a career in math and science. I found that I could weld in that math class, but even prior to that I wanted to do be a business woman. I took a course in economics but I did not do as well I would have liked to. I did really well in the math class and the next thing you know, I was taking several calculus courses," Aisha said.
"I find the diversity of opportunities to be the most interesting to me because as an engineer there are so many things that you can do. I know engineers who have received their degrees and have gone on to become surgeons, lawyers, radio personalities, so there really is no limit that you can do with engineering because it teaches you how to solve problems. It is really about enabling you to look at a problem and develop an analytical mindset."
Aisha recently completed NASA's Foundation of Influence, Relationships, Success and Teamwork (FIRST) course, a one-year agency-wide leadership development programme for civil servants designed to enhance business acumen and leadership.
Aisha has received numerous awards for her dedication to technical excellence and the principles of diversity and opportunity, including: NASA's Engineering Honour Award; NASA's Honour Award for Equal Employment Opportunity; the NASA Ames Spotlight Award for Equal Opportunity and Diversity Excellence; the National Society of Black Engineers (NSBE) 21st Century Trailblazers in Aviation and Aerodynamics Award, and the NSBE Outstanding Technical Contribution Award.
Aisha's BETA Camp is designed to introduce Bahamian students to fundamental science and math skills while helping them build a strong foundation in engineering. With generous support from the ad technology company Rocket Fuel and their philanthropic "Gives Back" programme, BETA Camp helped address a dire need in the Bahamas for educational intervention through hands-on learning and exposure in chemical and biochemical engineering, mechanical and aerospace engineering, civil and environmental engineering, electrical engineering, computer science and web development, she said.
Aisha founded STEMBoard together with John Martellaro. The organisation uses technological innovation and mentorship to provide underserved students with the real world tools they need to succeed in a competitive global marketplace.
The first BETA Camp ended on a high note, with celebrity guest Derek "Fonzworth Bentley" Watkins, entertainer and BET's "Lift Every Voice" host, sharing tidbits with the kids from his latest book, "Advance Your Swagger".