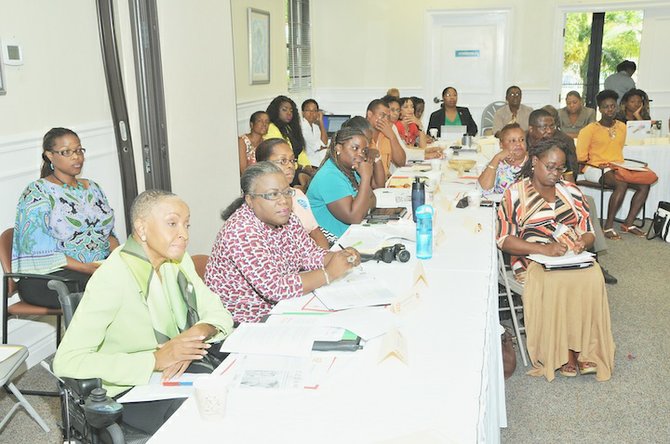 By AVA TURNQUEST
Tribune Chief Reporter
aturnquest@tribunemedia.net
THE government has committed to affirmative action for women in politics for one year in a bid to increase the number of potential women candidates in the next general election.
Christine Campbell, officer-in-charge of the Bureau of Women's Affairs (BWA), confirmed the agency will partner with stakeholders to implement "temporary special measures" to accelerate the achievement of de facto equality of women in political leadership.
Initiatives for training, mentorship, advocacy and lobbying, and fundraising were outlined in an interim report to the United Nations' Committee on the Elimination of Discrimination against Women (CEDAW), filed last month.
According to the report, the special measures begin this month and will end August 2015.
The report said the initiative aims to adequately prepare potential women candidates for the next general election in 2017 through targeted training in such areas as campaigning, fundraising, issues affecting women, balancing family and public life, parliamentary procedure and the public service. The scheme will also include mentorship by former/present female parliamentarians and cabinet ministers while encouraging women in political parties to advocate for more women to be nominated as candidates. It will also involve lobbying women's groups and women in general to vote for women in the next general election; encourage women entrepreneurs to support female candidates; involve men as advocates in promoting temporary special measures for women in political leadership and educating them about gender equality and ending gender based violence, the report said.
CEDAW, which affirms the principles of fundamental human rights and equality for women, was ratified by the Bahamian government in 1993.
CEDAW represents the commitment of the United Nations, to not only set standards for gender equality worldwide, but also to encourage governments to be accountable to their people and the international community for the obligations which they voluntarily accepted in this area.
The convention promotes women's equal attainment of economic, social, cultural, civil and political rights, but also provides protection, and a form of recourse for women who have exhausted local resources seeking such protections.
Representation for women in high-level politics has been a longstanding concern among domestic and international advocacy groups.
The issue was raised in May at a special two-day workshop to establish a steering committee and strategic action plan to increase gender representation, hosted by Commonwealth Women Parliamentarians (CWP) in Nassau.
Sensitivity over women's rights in the country has heightened with the anticipated November 6th constitutional referendum, which seeks to remove discrimination against women in several areas.
A coalition of women's rights advocates will hold a press conference at Rawson's Square today to address issues related to the proposed referendum. Speakers include men and women involved in the women's rights struggle in the Bahamas from different eras starting from the Women's Suffrage Movement, including Mrs Marion Bethel Sears, recent recipient of the CARICOM Eleventh Triennial Award for Women, and Audrey Roberts, human rights advocate, gender and development consultant.
At a seminar this week, Gaynel Curry, gender and women's rights advisor, acting chief of global issues for the UN Office of the High Commissioner for Human Rights, encouraged activists not to be discouraged by the slow pace of reform.
Ms Curry said: "It's a process, and I think we need to be cognisant of the positive steps that we have taken. Bahamian women do have a lot of rights that they fulfil right now, they have advanced in many ways, but we must recognise the process is still ongoing and there is a way to go and we ought to be continuing the fight until we have at the very first eliminated the inequalities in law, and then the fight continues as to how we will eliminate de facto equalities in practice.
She added: "Remain consistent, we have to be prepared to use all of the tools in our toolbox, we cannot use one tool, demonstrations for example, and say okay that didn't get us anywhere and we give up. I think it's important for you to have men's voices on the issue too, if you only have women's voices on women's issues it's limiting."
More like this story