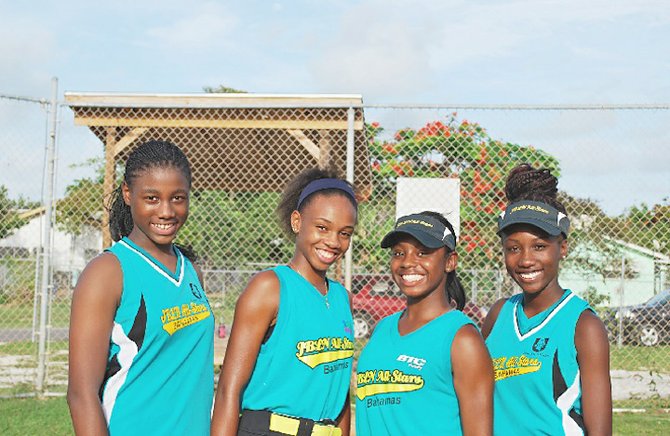 By BRENT STUBBS
Senior Sports Reporter
bstubbs@tribunemedia.net
KENDALIA Turner, Kevique Ferguson, Chandra Mackey and Kechelle Robinson are all headed off to school in the United States on athletic scholarships, thanks to their involvement in the Junior Baseball League of Nassau girls' softball programme.
Turner, a 15-year-old former student of Charles W Saunders heading to Lynden Institute in Vermont, said she's excited about getting the opportunity to play softball at a higher level.
"It's going to be a good experience for me because it will be easier for me to get a scholarship to go to college," said Turner, who has played the sport for the past three years as a shortstop. "I think it will be good for me to get used to the system over there so I can be ready for college."
During the time she played here, Turner said she was grateful for the fact that she was able to hone her skills and she can go to the United States and perfect the skills that she has learned through coach Stephen 'Bishop' Beneby and his coaching staff.
"I had a lot of fun playing with the girls on the team," she said. "We had a lot of fun and we really worked together as a team."
Turner will have some company when she travels. Kevique Ferguson will also be attending Lynden Institute. In fact, they are hoping to be room-mates.
"I think this is a great opportunity for me. The experience is different," said Ferguson, who plays third base. "I am looking to improve my game and understand the fundamentals."
The former student of Queen's College said if there was anything she learned, it's the fact that one should "never give up and play to the best of your ability." She has vowed to play her best as she completes her high school education and eventually goes on to play on the collegiate circuit.
As an 18-year-old graduate of Aquinas College, Mackey is planning on enrolling in either Sure University, North Carolina or the College of Staten Island, New York, by January where she intends to study biology pre-med.
"I'm very thankful for everything that my coach (Stephen Beneby) has done for me," said the second sacker and pitcher who has been in the programme for the past four years. "I am expected to be one of the first to go directly from here to college, so I want to open the avenue for those who are coming behind me. I always want to learn and develop my skills so that I can eventually come back and help them out."
Although she hasn't left yet, Mackey said she was surprised when she found out that the opportunity was available for her to go to college.
"I'm just looking forward to going there to start playing and being a part of something where I can make a contribution," she said.
To those who she will leave behind, Mackey advised them to "continue to work hard, practice as much as possible and try to get better because anything is possible. All the girls here love softball and they enjoy playing the game just as much as I do, so just continue to work hard."
And Robinson, who will be attending Asheville High School in North Carolina, said she's elated to be heading off to school.
"This will make my chances greater for me to get into college," said the 15-year-old former student of St Andrew's. "I was hoping that I would get this opportunity and I worked really hard for it. So I'm pleased that I will be going."
The shortstop, who also pitches, said she likes the fact that she will get more out of the sport than what she got when she joined the programme.
"This is a good programme," she said. "It has developed many girls to play softball and they have helped a lot of girls like myaelf to go off to school."
Beneby said he's proud of all the girls who have been afforded the opportunity to further their education through softball in the United States. He said the JBLN will continue to develop more players as they conduct their practice sessions 4-7pm every Tuesday and Thursday and 10am to noon on Saturday.
Interested players are invited to join the programme at the St Andrew's Field of Dreams.