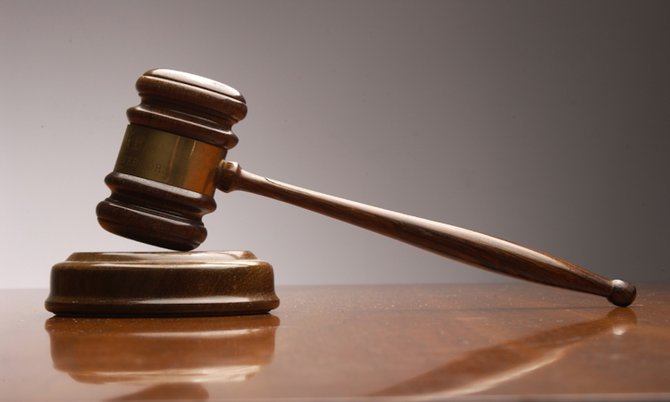 By LAMECH JOHNSON
Tribune Staff Reporter
ljohnson@tribunemedia.net
THE jury in the Tristan Bartlett murder trial heard testimony from a police corporal who inspected the car that was part of the scene of a murder.
Brothers Tony Smith, 26, and Leroy Smith, 27, are on trial for Bartlett's murder.
In yesterday's proceedings before Senior Justice Jon Isaacs, Cpl Tavaris Moxey said that on February 6, 2012, he was at the Central Detective Unit when he received certain information that led him outside to the Drug Enforcement Unit's parking lot.
The crime scene investigator said he saw a superior officer, from whom he received additional information and instructions concerning a green Honda vehicle.
As the officer explained what he observed and did, the two accused brothers sat behind their lawyers listening to the evidence.
Both deny the charge of murder in connection with the fatal shooting of Bartlett, who was sitting in the driver's seat of a green Honda when he was approached by five men, two of whom were armed with handguns.
The men allegedly opened fire on the vehicle resulting in the victim being shot twice in his head. A friend of the victim jumped into the vehicle and drove the man to hospital, according to reports. He was pronounced dead on arrival.
The Smiths are represented by Murrio Ducille and Michael Kemp while Darnell Dorsett and Patrick Sweeting are prosecuting for the Crown.
During questioning by Ms Dorsett, Cpl Moxey said he saw what he believed to be blood stains in a number of areas in the car. He also saw a damaged cell phone and spent casings in the back of the vehicle.
Cpl Moxey said he photographed the car and its interior and collected three spent casings and four swabs of suspected blood for forensic analysis.
When cross-examined by Mr Kemp, Cpl Moxey was asked if he had dusted the car for impressions, marks or prints.
The officer replied that he did dust the exterior, but not the inside.
Mr Kemp asked if he dusted the spent casings for prints and Moxey replied that he was not instructed to do so.
The trial resumes today at 10am.