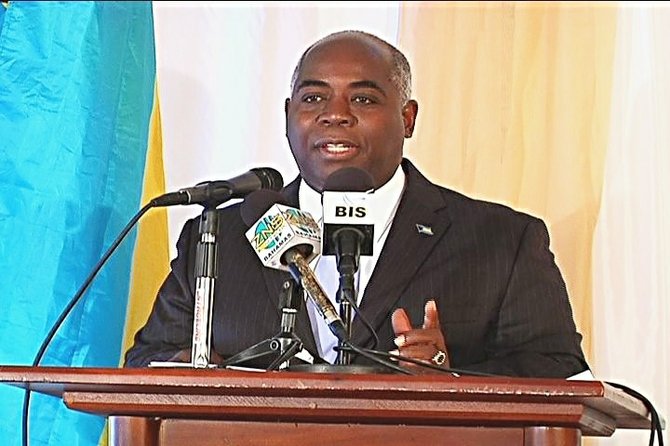 By KHRISNA VIRGIL
Tribune Staff Reporter
kvirgil@tribunemedia.net
AFTER earlier signalling that he intended to deal with concerns about clashes with PLP backbenchers during an upcoming caucus meeting, Deputy Prime Minister Philip 'Brave' Davis spoke publicly in the House yesterday on the matter.
After fiery debate between backbenchers and party members, Mr Davis stood and addressed Fort Charlotte MP Dr Andre Rollins, inviting him to "do the honourable thing". Rollins retorted that it was impossible for him to resign from his gaming board position because those appointments had expired in July and therefore he was not technically on the board at present.
Speaking earlier in the day, Mr Davis responded after being was asked to state his opinions on Dr Rollins and Marco City MP Greg Moss, who have not held back in hurling criticisms at the Christie administration recently. On several instances within a week, both men have clashed with senior PLPs in the House of Assembly. Mr Moss and Prime Minister Perry Christie also faced off in the House on Tuesday.
"I don't wish to comment publicly on the matter of Greg Moss or Andre Rollins, but I do have some views on the matter and I will share that in the internal party machinery when the time comes and the topic arises," Mr Davis said yesterday.
On Tuesday, Mr Moss directed comments toward Mr Christie, by suggesting that he was not afraid of anyone in the face of what he perceived as threats from the Prime Minister and leader of the PLP over criticism of the government.
His comments led Fox Hill MP Fred Mitchell and Cat Island, Rum Cay and San Salvador MP Philip Davis to defend the prime minister, who at the time was absent from the lower chamber. Mr Christie returned a short time later and rebutted the statements. This led to a back and forth between Mr Moss and Mr Christie over the matter.
"It troubles me, when in respect to one of the sets of bills (before the House), members of my party make statements that there are consequences for a member of Parliament getting up in this House and expressing his conscience on a Bill," Mr Moss said on Tuesday, during debate on value added tax legislation.
"That happened in this House when the member for Centreville, who is my leader, said that happened when two other members who sit in the Cabinet said things that are very close to that. I would be gravely misunderstood if I did not respond to that.
"...I want to be clear that my absolute dedication to the idea of deepening this democracy – it will not waiver, is undeterred, is unmoved by that kind of talk. I do not fear men. The Lord is my light and my salvation, whom shall I fear? The strength of my life of whom shall I be afraid? How much bigger than me are you? Your ideas may be bigger, but what we do in here of sharpening each others skills in the debate and the standard of debate is important."
He went on to blast the government not only for forging ahead with imposing VAT on January 1, 2015, but he took the government to task for failing to bring "compassionate" legislation to the House of Assembly. He suggested that the Christie administration was not serious about effective governance.
Yesterday, Dr Rollins said he also took issue with the prime minister's statements on Tuesday. He also said that new political leadership was needed.
On Monday, Dr Rollins and Marathon MP Jerome Fitzgerald got into a heated row in which they hurled insults at each other leading House Speaker Dr Kendal Major to shout over both men as he stood to his feet to regain control of the proceedings.
Mr Fitzgerald had said he wanted nothing to do with "new generation" thinkers of the party who have disagreed with the government on the proposed constitutional amendment bills. Mr Rollins said it was a personal attack against him.