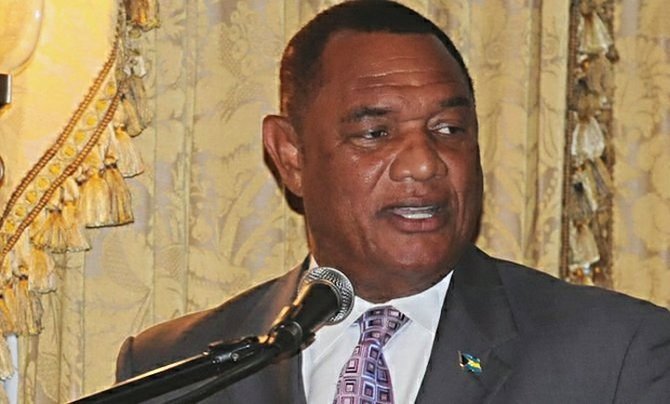 By SANCHESKA BROWN
Tribune Staff Reporter
sbrown@tribunemedia.net
PRIME Minister Perry Christie and Minister of Tourism Obie Wilchcombe are expected to be in Las Vegas today for the opening of the SLS Las Vegas boutique hotel and casino and to meet with the Nevada Gaming Commission as a part of consultations for the revised Gaming Bill.
Speaking with The Tribune yesterday, Mr Wilchcombe said the opening of the hotel will give the government the opportunity to "check out" the SLS Hotel before the operators open in the Bahamas as one of Baha Mar's luxury hotel partners in 2015. During the trip, a meeting is scheduled with the Nevada Gaming Commission to review their gaming laws and see what can be applied to the Bahamas.
Sir Baltron Bethel, senior policy advisor to the prime minister, is also on the trip. Mr Wilchcombe said he did not know how much the trip costs, but said it was necessary.
He said: "I know we are not paying for the hotel, but I don't know how much the entire trip is, but it is worth the investment. You have to appreciate what we are doing and what we are trying to get done. SLS is a major brand and we want to see how it works and also take advantage of the opportunity to see how they deal with their gaming situation."
Mr Wilchcombe also denied speculation that the trip was a birthday celebration for the prime minister and insisted that it was just a "coincidence" that the trip coincides with Mr Christie's birthday, which is today.
"We are using the opening as an opportunity to meet with gaming operators, particularly related to technology and to see one or two individuals in reference to where we are in terms of gaming legislation," he said.
"So it is a work visit. It just so happens that his birthday falls during the trip and he could not cancel. He committed the time and he will be working on his birthday. I will be frank, I wish he didn't have to work, but we scheduled it and it falls with the same time and there are things that need to be done. The SLS brand is coming to the Bahamas with Baha Mar and we want to see their gaming facility and what they will be doing. The prime minister will also meet with president of the Nevada Gaming Commission and look at their operations and how their gaming works. So it is definitely working time."
In June, Baha Mar and the SLS Hotel signed a management agreement.
SLS at Baha Mar will be the brand's first international venture, and will complement SLS' soon-to-open hotels and resorts in Las Vegas, New York, Philadelphia, Seattle, Brickell, Miami and China, as well as its signature hotels in Beverly Hills, California and Miami Beach, Florida.
The new gaming legislation is expected to be tabled in the House of Assembly after the Value Added Tax Bill has been passed.
Last year, Mr Christie came under fire from the opposition over his travel costs for trips overseas.
Concerns were raised over spending after Mr Christie travelled to the Commonwealth Heads of Government Meeting (CHOGM) in Sri Lanka, then to Vatican City where he met the pope before heading to London.
The Prime Minister said last November, after initially seeming to be annoyed when asked about travel costs, that he would have no problem giving a full account of how much money was spent on the trip.
However, he never revealed the costs.