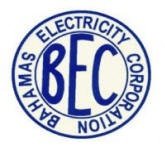 By RASHAD ROLLE
Tribune Staff Reporter
rrolle@tribunemedia.net
A ROW has erupted between Bahamas Electricity Corporation Chairman Leslie Miller and former State Minister for the Environment Phenton Neymour over the cause of the frequent blackouts that have affected New Providence this summer.
Mr Neymour claims BEC lacks the capacity to generate sufficient power to meet demand because the Christie administration no longer rents mobile generator units capable of providing 40 megawatts (MW) of power, as the Free National Movement did during its last term in office.
"This 40 MW represented, on average, an additional 35 per cent capacity to the Blue Hills Power Station," he said. "You will note that the vast majority of our blackouts and load shedding were centred on the failure of BEC's generation at Blue Hills.
"The PLP and Mr Miller cancelled this agreement leaving BEC to suffer the summer months, when demand is highest, without an additional 35 per cent generation capacity. I consider this an irresponsible decision that has left the Bahamian people out in the heat without electricity."
However, when contacted by The Tribune, Mr Miller rejected Mr Neymour's claims, saying that two days before the last general election, the FNM replaced its rented generators with a 26.5 MW engine provided by Hitachi Global, an engineering and electronics conglomerate. 
He said that compared to the rented generators, the engine has been a better investment for the country.
"(The FNM) paid $750,000 a month to rent those (generator) units before getting rid of them in favour of the Hitachi engine two days before the last general election," he said. "With that money, they could've….put up a new plant at Clifton Pier. Instead, they spent money on that and on putting up plants in Family Islands like Abaco, Eleuthera and Bimini when those islands didn't need them. If (Mr Neymour) was on top of everything like he tries to seem, he would've made some effort to try to put up a new plant in New Providence where it was necessary."
Mr Neymour also claimed Mr Miller oversees inadequate maintenance of the Clifton Pier generators.
"You will recall that Mr Miller, earlier this year, stated that in preparation for the summer power demand BEC had spent approximately $5m," he said. "My immediate public statement was that this was a drop in the bucket as to what we had traditionally been prepared to pay. In fact we had been prepared to pay almost double that amount and have done so in the past.
"In the past, we had also brought in outside engineers, mechanics and support staff to assist BEC maintenance staff in preparing for summer months. The fact is that the generators at Clifton Pier are cheaper to run than those at the Blue Hills Power Station but they require more maintenance and are less reliable. Mr Miller in numerous statements, when explaining the load shedding at BEC, confirmed that they were trying to bring into operation certain generators at Clifton Pier. The root cause is that of inadequate maintenance. I wish to advise that there are many days when the Clifton Power Station is running less than 50 per cent capacity."
Mr Miller, however, said the $5m Mr Neymour referred to represents money spent on labour, "not on equipment".
"This guy is clueless," he said. "We spent about $12m overall."