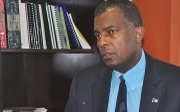 By RASHAD ROLLE
Tribune Staff Reporter
rrolle@tribunemedia.net
FOREIGN Affairs Minister Fred Mitchell expects to soon announce new measures the government will take to help clamp down on illegal immigration to this country.
Mr Mitchell, who has immigration in his portfolio, foreshadowed that "drastic measures" may have to be taken to stop the "revolving door" of immigrants who are repatriated only to quickly return to the country illegally.
"Within a couple of days I'm hoping, with the leave of the Cabinet, to announce some new initiatives with regard to documentation to try and stop new people from making applications in this country after just jumping off the boat," he told the House of Assembly yesterday.
"(I'm also hoping) to tighten up the rules with regard to nationals and their passports and the requirement for people that have residency or permits here notwithstanding that they may have a contingent right to citizenship of this country at the age of 18.
"All of these rules have to be tightened up to stop this demand here or this inflow of people coming here unlawfully."
Mr Mitchell's comments came after he highlighted this country's persistent problem with illegal immigration, noting that 105 people, all believed to be Haitian nationals, were apprehended in Ragged Island over the weekend, bringing the total number of apprehended immigrants for the month to 409.
"I'm also advised," he said, "that three Cubans were interdicted at Wood Cay, which I believe is near Mangrove Cay, Andros, and they've also been brought in. The Cubans have been taken to Inagua.
"I think they are waiting for the weather to break because the Detention Centre is not able to hold anymore. It's actually bursting at the seams, but we expect that repatriation flight will be taking place tomorrow which will remove half of those individuals back to Port au Prince."
Mr Mitchell urged Bahamians to work with law enforcement officials to solve the problem which he believes persists in part because many illegal immigrants are supported by Bahamians.
"I had a very interesting comment made to me," he said. "Among the people who came (recently), there were eight children and it turns out those eight children had been repatriated in this country about three to four weeks ago, so what you have is a revolving door going on here. We believe that there are Bahamians who are driving this smuggling effort which is coming in here. We are sitting with the intelligence chief to try and figure out how these things can be interrupted.
"It is to the point where in some communities people are on a knife's edge about this and it may be that some drastic measures will have to be taken unlike we've seen in recent years when we've tried to bring this matter under control.
"What I do ask for is the support of the Bahamian people for the support of the Royal Bahamas Police Force (RBPF), the Royal Bahamas Defence Force (RBDF) and the Immigration Department to bring this matter under control. We have to know who is in this country. It is clear that undocumented people in this country cannot be here unless they have support and the comfort of Bahamians who keep them here (it is their) patriotic duty to stop that and support officials in their efforts to solve this immigration problem."