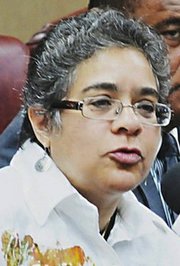 By JEFFARAH GIBSON
Tribune Features Writer
jgibson@tribunemedia.net
WHAT connects 14 very different Bahamian women from various walks of life is that they have each made a significant impact on society, that they all have a heart for charity and they are participating in a unique fashion fundraiser next month.
The Bahamas AIDS Foundation recently announced the return of its glamorous charity fashion show and cocktail reception known as the Red Dress Soiree, taking place on September 20 in the ballroom of the British Colonial Hilton.
The event pairs 14 selected ladies with 14 Bahamian designers to create a red dress or ensemble that is then modelled by the women on the evening of the event.
The women being honoured on the night this year are at the top of their careers and have effected society in positive ways by displaying a spirit of humanitarianism. They include Lady Joan Foulkes, Dr Nicolette Bethel, Alexandra Maillis-Lynch, Inga Bowleg, Patricia Walters, Amanda Lindroth, Dr Tracey Halkitis, Karen Carey, Eldece Clarke, Lisa McCartney, Candia Dames, Antoinette Russell, Patrice Ellis and Marisa Mason-Smith.
The Red Dress Soiree is also an opportunity to highlight the creativity of Bahamian designers.
The designers are Brynda Knowles, Jeff St John, Fenna Mae Lopez, Sabrina Francis, Judy Deleveaux, Theodore Ellyett, Phylicia Ellis, David Rolle, Apryl Burrows, Indira Moss, Kathy Pinder, Patrice Lockhart, Javotte Bethel and Rachel Garcia.
For some of the leading ladies, collaborating with a fashion designer to create the perfect dress and showcasing the designs on a runway in the front of room full of people is an extraordinary experience they are anticipating.
Dr Nicolette Bethel
Dr Bethel is a Bahamian teacher, writer and anthropologist. She is a former Director of Culture, and is currently a full-time lecturer in Social Sciences at the College of the Bahamas.
She has also published several poems, short stories, as well as co-written and co-produced several plays.
Dr Bethel jumped at the opportunity presented to her by the Red Dress Soiree committee to participate in the event. She is paired with local designer Jeff St John.
"I am under five feet tall so I never thought I would ever be a model, so maybe the fact that I will get to wear a designer outfit and model it in front of an audience is something I found attractive. There is also an element of theatre and of playing a role involved, and that is something I am more familiar with, so maybe all in all it is a great opportunity," she told Tribune Woman.
So far the process has been an exciting one for Dr Bethel, who has already gone to the drawing board with Jeff St John to create her gown for the event.
"I am paired with Jeff St John. We hit it off and I am enjoying the process so far. I am not allowed to say what style dress I will be wearing. Jeff is in charge and he has sworn me to secrecy. People will just have to be there on the night to see," she said.
Amanda Lindroth
Ms Lindroth is a Bahamian interior designer whose celebrated portfolio adds a new chapter to the "evolution of colonial Caribbean design". For the past two decades, Ms Lindroth has mastered the island style when it comes to interior decorating and believes that an open-air environment is the defining characteristic of that style. 
"I was very honoured to be asked to participate in the event and I accepted. I am the least confident person to ever model on a catwalk. I told Lady Barnett (president of AIDS Foundation) that I do not have a full-length mirror, so this is a serious stretch for me," she said.
For this edition of the Red Dress Soiree, Ms Lindorth will collaborate with prominent local designer Theodore Ellyett. Though she and Mr Ellyett have yet to decide on a dress style, she envisions wearing a dazzling dress with sleeves.
"I think the event will be a charming one event and I hope we are able to raise enough money to support the foundation. I am looking forward to it all. We have not decided on the gown yet, but I am hoping to wear something with sleeves for sure," she said.
Alexandra
Maillis-Lynch
Mrs Maillis-Lynch operates a full-service event planning and catering company headquartered in Nassau. With more than 20 years of experience and the help of a robust team, Ms Maillis' reputation for quality, passion and creativity is a thread that runs through her work.
"I believe in giving to charitable organisations and I believe the subject of HIV/AIDS is an important one; it needs continued awareness and support," she told Tribune Woman.
Fenna Mae Lopez will design the gown for Mrs Maillis-Lynch.
"I have not actually had the pleasure of being measured and that is horrifying to me. But the designer is ready and willing to take on the task of designing a gown for me. I want something that is designed for a 48-year-old plus sized body," she said.
Mrs Maillis-Lynch said that she is very nervous about the event and will go the extra mile to ensure she does her very best.
"To be measured first of all, and to have to strut on the runway in front of so many people is terrifying. I am not a showy kind of woman, although I love sexy dresses and beautiful clothes, but I do not do as well publicly. I am going to Yodephy to let them train me so that I could be ready for that night," she said.
The Red Dress Soiree will support the AIDS Foundation's adolescent programme that provides youth infected and affected by the disease with a nurturing environment, a hot meal, peer support, counselling and even job preparation skills.
The AIDS Foundation, along with photographer Scharad Lightbourne, will also create a 2015 calendar featuring the fabulous ladies in red along with their talented designers.