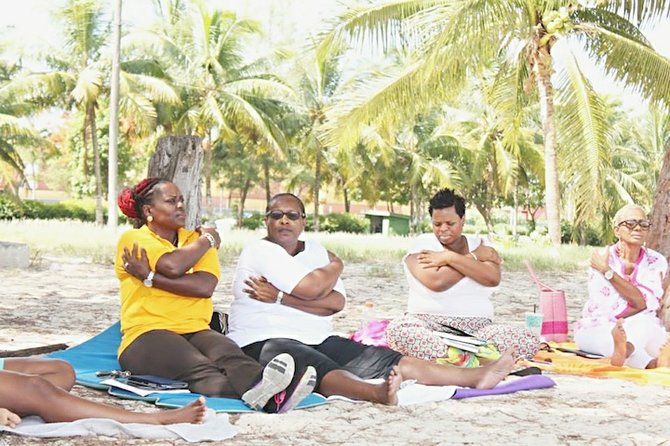 By ALESHA CADET
Tribune Features Reporter
acadet@tribunemedia.net
WOMEN are mothers, nurturers, the providers of emotional support. But in trying to tend to the needs of everyone around them, they sometimes forget their own needs.
As a result, women are often tired, lack self-motivation, and lose a part of themselves in the midst of everyone else's concerns and issues.
Last Saturday, New Jersey life transformation specialist Tina C Hines sought to change this.
She hosted a free "Women Talk On The Beach" event where she encouraged Bahamian ladies to step away from everyone and everything in their lives and totally focus on themselves for a few hours.
The enlightening, candid and interactive discussion took place on Goodman's Bay beach. The topics included Self-Awareness, Self-Love, Self-Nurturing and Self-Care.
Tina told Tribune Woman that she has worked with women from all around the world, assisting them with healing from past pain, and also focusing on reclaiming the woman within.
"We are so busy taking care of everyone else that we push to the side everything that we would like to do in our lives; whether we want to pursue certain goals of going to school or changing our profession, to just doing something exciting like travelling. I like to encourage women, tell them that they can still do all of these great things that have to do with them personally while maintaining their family," she said.
Tina said she started this journey three years ago and it all stemmed from her recognising that she was so busy taking care of everyone else that she forgot to take care of Tina.
She recognised that if she was having these problems, other women must having them as well.
"I have been coming to Nassau a little over 20 years. I have always considered it my second home and when I realise that I was coming for a vacation, I said I really wanted to do something where I can give back to the ladies in Nassau," she said.
"I actually did this same session two weeks ago in New York, Central Park. I connected with some of my friends who live in the Bahamas and told them about the idea. There was a unified 'Yes, please do it'," said Tina.
A group of her Bahamian friends shared the notice on Facebook and it all developed from there. These ladies include Olivia Bethel, Treva Tinker, Tanya Dames and Katrina King. They all came together to make the event happen.
Tina said she always starts her sessions and discussions with meditation so the women can be at peace with themselves. She allows the group to be vulnerable and openly share.
"What I find is that you may think you are going through something and you are the only one going through it, but in all actuality the person next to you is going through the same challenge. However, we don't share enough, we keep everything to ourselves, and we need to allow ourselves to be vulnerable for that moment and to embrace one another as sisters," said Tina.
She said the event was not only beneficial to Bahamian women, but to others around the world as well, because it shows that women everywhere struggle with opening themselves up due to a fear of judgment.
"The ladies really enjoyed the discussion and were more disappointed than I was that more women were not in attendance. I told them we will figure out a way for me to return, perhaps next year. It's amazing the connections that the ladies made with one another. They even concluded that they wanted to continue to meet monthly. I volunteered to create topics of discussion for them.
I sense what I shared was needed. In addition to discussing self-care we also talked about following your passion," she said.