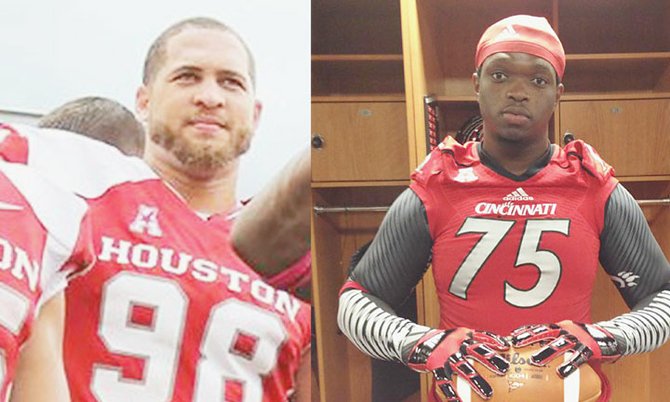 By RENALDO DORSETT
Sports Reporter
rdorsett@tribunemedia.net
A SWITCH from the defensive to the offensive side of the ball has become a common trait for two Bahamian gridiron stars at different points in their NCAA careers.
Both Alex Cooper and Chris Ferguson were initially recruited as defensive lineman, but this fall will shift their focus from trying to sack the quarterback to protecting him instead.
Ferguson, a freshman with the Cincinnati Bearcats, came to UC as a three-star recruit according to ESPN.com and has a pair of stars from 247sports.com and Scout.com.
As a defensive lineman in his senior season at Lake Nona High School in Orlando, Florida, he recorded 17 total tackles, one sack, one forced fumble and one fumble recovery.
After just two years of playing organised football, one year locally with the Orry J Sands Pros and one year in Lake Nona, his potential as a defensive lineman was quickly noted.
Ferguson was named to the Orange County Senior Bowl and was ranked No.40 in the Sentinel's 2014 Central Florida Super 60 and picked UC over offers from Illinois, Minnesota and Western Kentucky.
He was the Bearcats first signee of the 2014 class as a defensive tackle, however, in training camp over the past few weeks, Bearcats head coach Tommy Tuberville and his staff decided to shift the 6'4" and 275 pounds freshman to the offensive line.
The Bearcats open the 2014-15 season at home against Toledo on September 12.
Cooper, a redshirt junior for the Houston Cougars, made the transition from a high school basketball standout to a defensive lineman and has now worked his way into a starting role at right tackle when the season opens this weekend.
The Cougars are scheduled to open the 2014-15 campaign August 29 at home against the University of Texas-San Antonio and Cooper will be one of three new starters on the offensive line.
Cooper will join a pair of seniors in Rimington Trophy watch list centre Bryce Redman and guard Rowfy Harper.
He earned the spot when veteran tackle Zach Johnson tore his ACL on the final day of spring practice.
It will be the first start for the 6'4" 297 pound Cooper, who played in 12 games last year and 69 snaps on the offensive line. He also notched a start as a tight end in the team's jumbo formation.
In an interview with Joseph Duarte by the Houston Chronicle, Cougars head coach Tony Levine expressed his confidence in the young but experienced newcomers to the offensive line.
"They may not have started (in the past) but have gained experience," Levine said. "We know what they can do. They just haven't showed it publicly yet because they haven't played extensively in games. We have tremendous confidence in our offensive line."
When he moved to Houston as a member of the Frank Rutherford Development Programme, Cooper was a highly touted basketball recruit at Second Baptist High School.
In his senior season he earned 4A All-District honours on the court, and on the gridiron he played both ways, tallying five catches for 54 yards and a touchdown on offence and racking of 13 sacks and two fumble recoveries on defence.
Cooper chose Houston over Baylor, Kansas State, Rice and SMU.
After redshirting his true freshman season, he returned the following year when he moved to the offensive line prior to the start of fall practice.