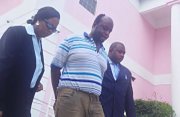 By LAMECH JOHNSON
Tribune Staff Reporter
ljohnson@tribunemedia.net
A JUDGE has given the Sandilands Rehabilitation Centre four more weeks to produce a psychiatric evaluation on a reportedly "schizophrenic" man accused of raping a 17-year-old American girl in San Salvador.
Senior Justice Jon Isaacs told a Crown prosecutor yesterday that failure to do so would result in Dr Nelson Clarke being summoned to the Supreme Court to explain why the court's July 25 order was disobeyed regarding a report on 41-year-old Henry Gray.
Gray, of Cockburn Town, San Salvador is claimed to have had sexual intercourse with the teen without her consent on Easter Monday.
The girl was riding her bicycle in the area of the Cockburn Town dock around 10am when a man emerged from the bushes, forcing her to perform oral sex on him despite her pleas not to rape her, it is alleged.

The girl was flown to New Providence for medical evaluation shortly after the incident.
Gray made his first Supreme Court appearance on July 4 where he pleaded not guilty to the rape charge and was given his date for trial: February 27, 2017.
At the time his lawyer, Shivron Gay, requested his client be removed from Her Majesty's Prison, where he was remanded.
Mr Gay claimed that his client suffered from schizophrenia and that a letter from a doctor at the Public Hospitals Authority indicated this.
Mr Gay said if his client were not in a facility where he could receive proper medication, he might not be considered fit to stand trial and would not only be a hazard to himself "but he would also be a danger to his fellow inmates at the prison."
Crown prosecutor Algernon Allen II brought to the court's attention yesterday that the Public Hospitals Authority, based on his instructions and information, was seeking an eight-week extension to produce the report requested by the court.
He added that he wished not to speculate, but understood the department was understaffed and had numerous requests.
The judge, however, questioned why this was communicated to the Attorney General's Office and not the court that had made the order for the evaluation to be performed.
Senior Justice Isaacs further said that the eight-week extension would not be granted given that they already had four weeks and such reports usually took only eight weeks to produce.
Mr Gay said he did not think that another four weeks was needed given that the information previously given to the court originated from the PHA itself.
He said if an extension was being given, his client should be given bail.
However, the judge said he was not of the opinion that bail should be granted as Gray "may pose a risk to the society... until I am satisfied that this is not the case."
The judge acknowledged the lawyer's previous point and said that if necessary, he would consider the bail application at a status hearing on September 30.