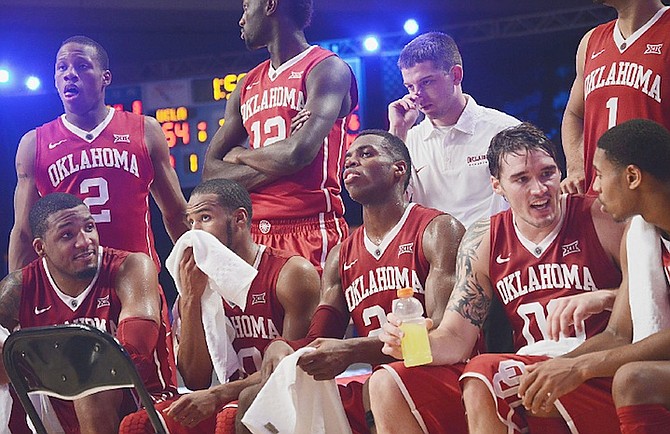 By RENALDO DORSETT
Sports Reporter
rdorsett@tribunemedia.net
IT WAS an historic moment when Buddy Hield and Wannah Bail stepped onto the floor in the Imperial Arena at the 2014 Battle 4 Atlantis as the first local products to play in the tournament.
Although both of their teams came up short in their bid for the tournament title, it provided fans with a local interest in the tournament and provided inspiration for younger players with their sights set on NCAA basketball.
Hield, averaging 16.6 points and 6.2 rebounds for the Oklahoma Sooners in the Big 12, said it was an experience he will never forget.
"It didn't end the way I wanted, but it was fun being here with my teammates, them getting a chance to see my country and enjoying the stay here at the Atlantis," Hield said. "Just being home with family and friends, my mom and my brother being here meant alot to me. Most kids that go off to play they don't get this experience so I thank God coach Kruger and his staff allowed us to play in this tournament and get me this opportunity."
The Wisconsin Badgers took the tournament title with a 69-56 win over the Sooners in the tournament finale.
The Sooners finished with a 2-1 record and Hield averaged 12.7 points. "This was a good experience for us. We got two wins and that was our objective," Hield said. "I took Isiah [Cousins] to Arawak Cay, the guys went to my house the first day and mom cooked some conch. So it was a good experience for the guys to see what my hometown is like and how to kick back. Being in the Bahamas is fun so I'm thankful for this tournament for allowing kids like me from the Bahamas to come back and play at home."
Bail and the Bruins finished the tournament in seventh place.
After an 0-2 start, the Bruins won their first game of the tournament with an 88-76 win over the UAB Blazers.
Bail is averaging 1.9 points and 2.7 rebounds per game on the season. In the tournament he finished with one point and three rebounds in the loss to Oklahoma, one rebound and one block in a loss to North Carolina and three points and one rebound against UAB.
Bruins head coach Steve Alford said his team continues to have growing pains, but he remains optimistic in the development of his young talent, including Bail.
"I like the way our guys competed, it is now for alot of these guys but I'm seeing alot of positive things. We have a bench that is developing. We're not going to be the team we want to be at Thanksgiving. I like the pieces that we have and I'm seeing alot of things from guys that don't have alot of experience," he said. He [Wanaah] has been tremendous. He's a great athlete and it's great getting him back home with a chance to play in front of his friends and family, that's terrific. He runs, blocks shots, rebounds, that's his role on the team and he's developing a great role for us that we will need."