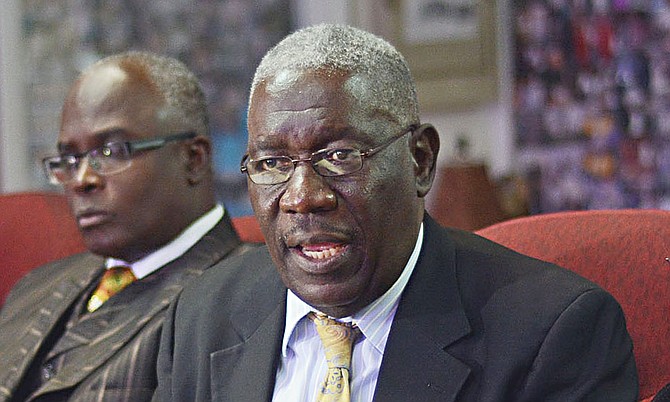 By NICO SCAVELLA
Tribune Staff Reporter
nscavella@tribunemedia.net
BISHOP Simeon Hall and other Bahamian religious leaders yesterday called on the "three political parties" in the country to "sheath their swords" and produce a "bipartisan ten-year crime plan for the nation".
The prominent religious figures also said "draconian measures" needed to be implemented to "successfully eradicate this crime monster" the country faces.
Their pleas come after two men were fatally gunned down just minutes apart in Yellow Elder Gardens on Friday, pushing the country's murder count to 108 for the year. Another non-fatal shooting took place at the Marathon Mall earlier that same day.
It also comes after Bishop Hall and other religious leaders urged gang members and criminals to turn in their
illegal firearms as a way of reducing gun crime in the country. At the time he also urged the government to do something "a little more drastic" in its efforts to combat the surge of violent crime.
Through a press release yesterday, Bishop Hall – Pastor Emeritus of New Covenant Baptist Church – "urged" the Progressive Liberal Party, the Free National Movement and the Democratic National Alliance to "be broad enough" to hold a two to three-day conference with the goal of "producing a 10-year crime position that would be handed to our Parliament for immediate implementation".
"The underlying call here is for continuity in how we deal with criminals," Bishop Hall told The Tribune yesterday. "One party will put something in place and when another party comes to the fore or into position, that position of the previous party is changed.
"It must be remembered that we should all be concerned and seek to depoliticise crime. The party who is trying to get into government always uses crime as the fault of the sitting government. We have to depoliticise crime, and that's why we say a 10-15 year project or position would make it everybody's business.
"The three of those parties," he added, "I don't think the three of them got together on one thing. If we can get together on immigration, as the two opposition parties stood with the present government on immigration, we think that's the same thing that should happen on the issue and debate of crime."
Jermaine Rolle Jr and Byron Saunders, aka "Bones", became the country's latest victims on Friday, killed by one or more culprits driving a champagne coloured, heavily tinted Honda Accord, according to police.
Rolle was shot and killed while on board a No.8 bus. Saunders was killed while standing outside his home on Nicholl's Court.
Earlier that morning, a man was shot in the lower back as he walked through the eastern entrance at the Mall at Marathon. He has since been hospitalised and is listed in stable condition.
On Thursday, a woman was shot in the thigh, reportedly by her nephew. According to reports, the woman had been involved in an argument with her nephew who had been embroiled in a dispute with her son on Baillou Hill Road South.
Earlier this month, after three men were killed in three separate shootings in less than 12 hours, Bishop Hall and a number of other religious leaders met at the New Covenant church, to appeal to gang members and criminals to turn their illegal firearms into the church.
Adding more incentive to their appeal was an earlier incident where two teen boys, who were armed robbery suspects, led police on a high speed chase and shoot-out before they crashed into a wall on Jerome Avenue.
Speaking with The Tribune yesterday, Bishop Hall reiterated his earlier statements that more needed to be done to put fear into the hearts of would-be criminals. He said the government needs to revisit the existing bail act.
"Between lawyers and them dragging out the cases and the right of individuals to have a fair trial, I wonder sometimes if we're more concerned about repeat offenders and people who brazenly break the law than how we are to protect citizens," he said. "The citizens in the country are in fear, and I'm saying let's put some fear into the hearts of would-be criminals. We need to send a message to the criminals. They are not afraid to take up a gun and go shooting."
In August, Cynthia "Mother" Pratt, former PLP National Security Minister, said the government needed to pass draconian laws in order to effectively combat the incidents of violent crime and murder plaguing the nation.
National Security Minister Dr Bernard Nottage, though not speaking on the issue of implementing draconian measures, confirmed that the government was giving "consideration" to the lock down proposals, but only "to the extent that the law permits it."
DNA Leader Branville McCartney, however, said earlier this month that the government needed to "let the commissioner and his men do their job" and lock down New Providence in certain areas to deal with criminals. He said a "relentless" approach needed to be taken against such individuals.