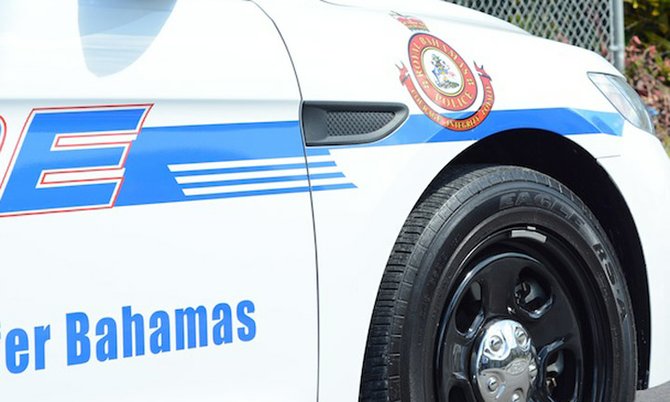 By SANCHESKA BROWN
Tribune Staff Reporter
sbrown@tribunemedia.net
THE 53-year-old woman who was murdered in Long Island over the weekend was "hit in the head with a blunt object" and not "stabbed multiple times" as was initially reported by police, according to Officer in Charge of the Central Detective Unit Chief Superintendant Paul Rolle.
At a press conference yesterday, Mr Rolle said the victim, who has been identified as Andrea Carroll, was discovered with one injury – a bruise on her forehead. He denied that her throat was slit or that she was stabbed. Police also said the victim was "tied to a fan".
"She was found lying on the floor in her bedroom and she had a bruise to the forehead above the right eye. There was some information about her throat being cut that is nonsense, there is no truth to that. That bruise is the only injury the female had and we have to await an autopsy to determine the exact cause of death," he said.
"She had one injury to the forehead which seemed to be blunt force trauma. Her feet were tied and one of her hands were tied to a fan. They used some cloth to tie her hands. She had no stab wounds, just blunt force trauma to the forehead. I don't know who generated the first release, but I am trying to clear it up."
In a crime report circulated to the media on Sunday, police initially said Ms Carroll was discovered with multiple stab wounds.
Supt Rolle said police still have a 44-year-old man in custody, believed to be the victim's boyfriend, in connection with the murder.
He also said police have not ruled out the possibility that the murder may have been the result of a domestic dispute or a robbery. The Tribune has been told that Ms Carroll worked for a web shop on the island.
Another team of officers flew into Long Island yesterday to assist with the investigation. Ms Caroll's body was brought to Nassau Sunday morning and authorities are waiting for family to officially identify the body.
Ms Carroll lived alone and had one child, a daughter attending college in the United States, The Tribune was told.
Long Island MP Loretta Butler-Turner said the murder unsettled the normally serene community.  
"Everybody is in shock," she said when contacted on Sunday. "You think about the idyllic lifestyle of the islands and to have something as horrific as this enter into a peaceful community is unnerving and unsettling. It's unbelievable. Crime is everywhere. As one who is among those who sit in positions to pass laws to help to protect the people, I feel very helpless and really distraught to know that crime is all around us.
"(Ms Carroll) is a person I knew (for about) a decade," Mrs Butler Turner said. "We go way back. After seeing her in Long Island, conducting her business and really not bothering with anyone that I am aware, having something like this happen makes you wonder what is going on. I spoke with her brother who was just at my house last Sunday. He was torn up, totally torn up and everybody in that area is in the same way."
Mrs Butler-Turner explained that Ms Carroll had returned to Long Island from New Providence several years ago to take care of her "aging parents."
"After both parents died, she remained there, operating the business," she said.
Long Island residents yesterday described her as mild tempered, out-spoken and educated. Anyone with information on this homicide is asked to contact police at 911 or 919, the Central Detective Unit at 502-9991 or Crime Stoppers anonymously at 328-TIPS.