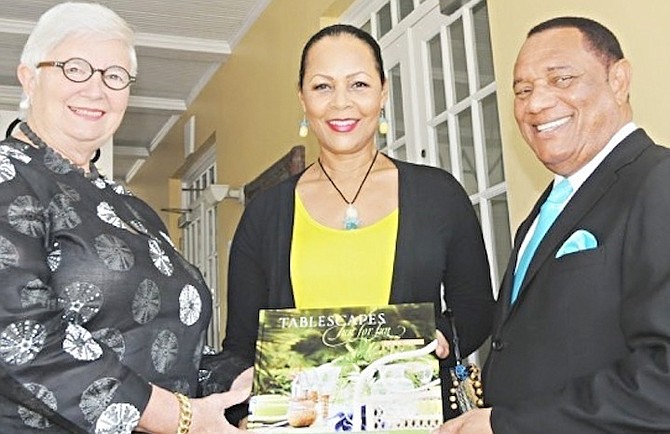 WELL-known art collector and cultural patron Dawn Davies was pleased to present a copy of her newly released book TABLESCAPES: Just For Fun to Prime Minister Perry Christie and his wife Bernadette at the National Art Gallery of the Bahamas on November 28.
Just For Fun is her second book, following the highly acclaimed Love & Responsibility: The Dawn Davies Collection. Where Love & Responsibility documents Ms Davies' expansive collection of Bahamian art — one of the largest private collections in the Bahamas — Just For Fun is a charming and personal look at one of her other passions — entertaining in her home and garden.
"Entertaining is about making a guest feel special, serving food that is out of the ordinary and well prepared, in an environment that offers ambiance and interest," said Ms Davies. "Tablescapes play a central role in establishing the tone and atmosphere for ordinary or special functions and occasions. Acquiring the ingredients to create these scapes has been a lifelong pursuit."
The book's intent is to show, in a light-hearted way, how one's imagination and creativity can be playfully used to change everyday and familiar surroundings into something new and exciting, said Ms Davies.

Using objects from around the house, and cuttings of greens and flowers from the garden, mixing and matching china, stem ware, linen, and other accoutrements, settings that are fun or sophisticated or something in between can be achieved.
Long-retired from a career in the financial services sector, this book has been a labour of love for Ms Davies, who worked on it with her good friend, well-known photographer Roland Rose, and designer Eva Pyfrom of Foreva Design.
In the 300-plus page hard cover coffee table book, detailed descriptions accompany stunning photographs of table settings and centrepieces that range from the whimsical to the elaborate and elegant. The book also provides a peek into Ms Davies' art collection, some of which complement her tablescapes.
Each of the 15 chapters feature multiple settings, that cover various holidays including Easter and Christmas, special occasions, a garden wedding, Kiddies' Korner, scapes from far-flung lands, picnics and meals in the garden, among many others.

The book pays homage to the art of hospitality and entertaining.
"As this book demonstrates, Dawn has a passion for entertaining, creative and imaginative talent, and finds pleasure in curating a lovely table," Erica Moiah James PhD wrote in the book's foreword.
"She invites us through this book to travel a little with her, to release our creative selves and add a little beauty to our lives in a space, and by extension spaces, we often take for granted."