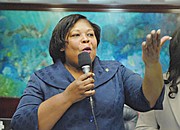 By DENISE MAYCOCK
Tribune Freeport Reporter
dmaycock@tribunemedia.net
BAHAMAS Consul General Ricardo Treco is refusing to discuss the current issues affecting immigration and human rights in the country with Daphne Campbell, the outspoken Florida State Representative, unless she withdraws her call for a boycott of the Bahamas.
Ms Campbell claimed the Bahamian diplomat has said in a letter he will not meet with her until she publicly withdraws her call for a boycott. She said they had been due to meet on Monday at the Bahamas Consulate Office in Miami and that she would continue to stand by her comments.
Ms Campbell, who has Haitian, Bahamian and Turks and Caicos roots, has been very vocal and critical about the new immigration policies that were implemented by the Department of Immigration on November 1.
Last night, Minister for Foreign Affairs and Immigration Fred Mitchell said no meeting between the Consul General and Ms Campbell was scheduled. "She was told to apologise or no meeting would take place," he said, adding she can go "fly a kite".
According to a statement issued by Ms Campbell yesterday she was informed on November 7 by a fellow Representative that Mr Treco wanted to set up a meeting with her and that she had called and written a letter to the Consul General's office.

Three days later, Ms Campbell held a press conference about the deportation of children of Haitian descendants born in the Bahamas. She and other former stateless Haitian descent constituents in her district believe that "it is wrong to penalise children for their parent's birth place, and almost every Haitian in the Bahamas has a family member in the United States, particularly in Miami."
Ms Campbell also protested against the "inhumane treatment and the need for justice for the innocents" outside the Bahamas Consulate General Office on November 14. Two days later further contact was made with Ms Campbell by her fellow Representative regarding a request for a meeting with Mr Treco. However, in a letter dated November 25, which was forwarded to Ms Campbell's office, Mr Treco withdrew from the meeting he had initiated.
In his reply, Ms Campbell claimed Mr Treco made it seem like she had initially scheduled the meeting. Her statement said that he had claimed that Ms Campbell called for a boycott of the Bahamas without familiarising herself with the country's new immigration policies.
"Representative Campbell and other human right advocates know that the immigration policies are a direct violation of the fundamental concept of the Constitution of the Bahamas because it violates Chapter 3, Article 17, which says "no person shall be subjected to torture or inhumane or degrading treatment or punishment," the statement read.

Regarding the earlier statements she had made Ms Campbell said she would continue to stand by them. "The issues that are going on in the Bahamas are bigger than race, culture, or national origin. There are human rights that are being violated and as long as that continues, I will not rest until I see justice," her statement continued.
Ms Campbell listed a slew of questions she would have asked Mr Treco on Monday on the specicifcs of the new policies, the violation of human rights and allegations of mistreatment.
Ms Campbell also claimed that there has been a report to the US Department of States regarding relations with the Bahamas which states that the Bahamian detention centres failed to meet international standards and that "anti-Haitian prejudice and resentment regarding Haitian immigration was widespread".
She reported that according to unofficial estimates, between 30,000 and 60,000 residents were Haitians or persons of Haitian descent, making them the largest ethnic minority in the Bahamas, many of whom lived in shanty towns with limited sewerage and garbage services, law enforcement or other infrastructure.
Ms Campbell claimed that she is fighting for the human rights of everyone in the Bahamas. "I would like for there to be an amiable and agreeable conclusion to all of this," she said. "Everyone is entitled to be treated fairly and with respect."