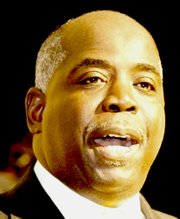 By NICO SCAVELLA
Tribune Staff Reporter
nscavella@tribunemedia.net
AN announcement on which private company will manage the Bahamas Electricity Corporation (BEC) may come within two weeks, Deputy Prime Minister Philip "Brave" Davis said yesterday.
Mr Davis said the government would ultimately commit to a "management company that can guarantee reduction of the cost billed to the customer to an average of less than 30 cents per kilowatt hour".
Mr Davis made his statements on the sidelines of an energy reform workshop at the British Colonial Hilton hotel.
As it stands, three companies are currently bidding to manage the corporation, according to Mr Davis.
He confirmed a Tribune Business report that the government has abandoned its previous plans to split the corporation into two components - generation and transmission/distribution - and has opted to select a single private sector "manager" for all of BEC's operations.
However, he said the government would retain 100 per cent ownership of the corporation.
He also announced the government's drafting of a new Electricity Act which would "provide for new innovations at BEC."
"There was this idea of splitting BEC into two components, the generating component and the transmission and distribution component," Mr Davis said yesterday. "Having looked at all the bills with respect to it, we then had to review where we were and we decided that it's best the government retain 100 per cent ownership of it and perhaps move towards the management area and from those companies as part of that process we then allow them to make proposals in respect to this new model of managing it.
"What we are in effect doing is setting up like a (Nassau Airport Development Company) model. We're identifying a strong, reliable, experienced energy company who is already in the business to manage BEC on certain management terms. The government will still own BEC, but it be managed by them and it will bring in some capital to assist in the construction of a new plant to assist in all of the issues that impact the cost of electricity."
In August 2013, Prime Minister Perry Christie announced plans to divide BEC into separate entities. At the time, he said it was envisioned that one company would run the transmission, distribution and customer billing, while another company would offer power generation.
Initially, the government was supposed to select BEC's preferred bidders by November 2013. In July this year, a new deadline was set for August 30.
In September however, Mr Christie suggested that the government would delay the reformation process, saying he felt it was best to prioritise management of the corporation's legacy debt.
He said at the time the government was considering a firm with such capacity, and said he had "intervened for the NAD model," referencing the Nassau Airport Development Company's managerial functions at the Lynden Pindling International Airport.
In September, Bahamas Electrical Workers Union President Paul Maynard told The Tribune that while no company had been officially chosen to handle BEC's management and distribution, the field had been narrowed to three bidders. He said a deadline of sometime before November 1 had been tentatively set.
This week, sources told Tribune Business that the government was pushing to conclude a deal with its preferred bidder before the New Year. Sources said negotiations were being undertaken with the remaining three bidders to agree to terms and reach a final position.
Mr Davis yesterday confirmed the government's plans to select a company before year's end and also said the government is drafting a new Electricity Act to cover the corporation's and its assets' transition to being privately managed.
"My ministry is collaborating with the Attorney General's Office and BEC to create a new Electricity Act which provides for new innovations at BEC," he said. "It enables the energy policy and empowers the utilities regulations and competitions authority that will serve as the regulator of the sector."
According to sources, the three remaining bidders are thought to include Power Secure, China State Construction and Inter-Energy.
Mr Davis yesterday said as the government establishes a "new, strong and vibrant BEC," customers will experience "great improvements in the reliability of the system," including a "great reduction" in the frequency of power outages.