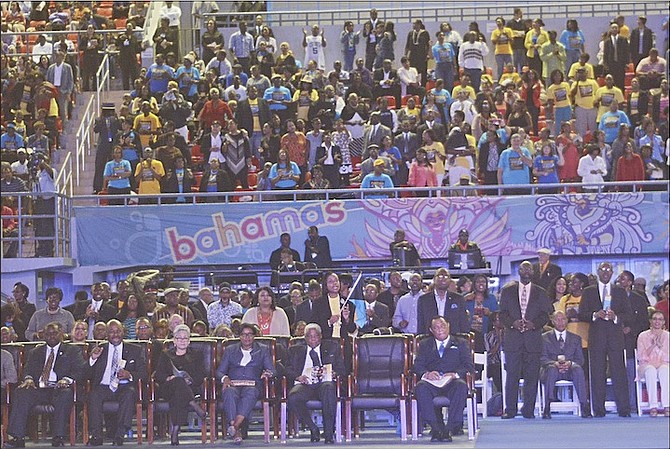 Photo Gallery
DR MYLES MUNROE MEMORIAL SERVICE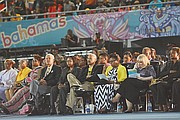 Scenes from the event held at the National Stadium. Photos: Shawn Hanna/Tribune staff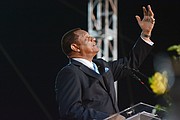 By SANCHESKA BROWN
Tribune Staff Reporter
sbrown@tribunemedia.net
THOUSANDS of mourners gathered at the Thomas A Robinson Stadium last night to remember and celebrate the life of a man described as the "greatest global ambassador for the Bahamas" and the woman "of wisdom who was always by his side".
During the national memorial and service of thanksgiving and prayer Wednesday night, more than a dozen local and international friends, family and performers paid tribute to the lives of Dr Myles Munroe and his wife Pastor Ruth Ann Munroe.
Among them were Prime Minister Perry Christie, Leader of the Opposition Dr Hubert Minnis, Commissioner of Police Ellison Greenslade, new BFMI Senior Pastor David Burrows, Christian Council President Rev Dr Ranford Patterson, Susan Hinn, wife of American Pastor Benny Hinn and Dr Creflo Dollar, an American televangelist.
With his sister and family by his side, son Myles Chairo Munroe Jr said his heart was "truly broken" and although for now his "world has stopped" he knows he has a legacy to continue. He said as long as he has breath in his body his parents will never die.
"My life is on pause, I know in my heart life has to continue. I know my life will continue but right now it is frozen and a part of me doesn't want to move forward but I know I must. I owe it to my parents to keep pushing and fulfill their mandate," he said.
"My mother and father are no longer with us physically but their legacy will never die as long as I have breath in my lungs. I miss my parent so much, my heart is truly broken but I know God is with us because there is a peace that surpasses all my understanding. That comes from God.
"So Mommy, your baby boy, Daddy, your son loves you and misses you. Rest in peace."
Prime Minister Christie described Dr Munroe as the focal point and prominent figure of marketing in the Bahamas. He said Dr Myles was not one to "mince his words" and frequently held the government's feet to the fire with "respect and no regret."
"I stand here tonight not only as prime minister but a Bahamian who mourns the death of Dr Myles Munroe and his wife and a man who gives thanks for their lives and ministry and all the others persons who perished on November 9 - a day forever etched in our minds. Dr Myles was for me, as a man a spiritual mentor a collaborator in nation building and a personal friend whom I admired," Mr Christie said.
"As prime minister, what I liked about Dr Munroe is how he always gave it to you straight. There was never any beating around the bush. If he thought something was wrong he wouldn't hesitate to administer the rebuke respectfully but never apologetically and you would never leave an encounter will Myles Munroe wondering how he felt. He always let you know straight up. Even when he was at odds with you, he was always constructive. He always presented alternatives and developed compromises. He demonstrated this gift not long before his death when along with his team of BFMI advisers he put forward a simple and brilliant solution for one of the more controversial bills which led to the bills being amended. I speak of the four constitutional bills.
"He was the quintessential diplomat and peace maker," Mr Christie said. "He was an icon of universal renown. The Bahamas may have produced him but could not contain him. He was a proud Bahamian but also a citizen of the universe. The world was truly his stage. His wife and partner Pastor Ruth played (a part) in making him a man of global standing. She was a woman of God and by all accounts the wind beneath her husband's wings. She made it possible for him to achieve what he did. She was there as his partner and chief. She proved that behind a great man is an even greater woman."
Dr Minnis said Dr Munroe, who grew up with him in Bain Town, taught him a very valuable lesson - it is not where you begin in life but where you end.
He said: "Pastor Myles would always say to me 'what is most important in life is how you end.' Both Myles and I were born in Bain Town and our birthdays are three days apart. We would get together and reminisce on the days we would would tote water from the pump for the tin tub. Dr Myles also taught me that death cannot kill an idea, ideas are more powerful than death.
"We love and miss both Dr Myles and Pastor Ruth but we will continue their work and share their ideas with others. They will never die," Dr Minnis said.
Fighting back tears, Pastor Dave Burrows said his only wish is that he could make Dr Munroe proud. He described the late pastor as his mentor, his inspiration and the person who moulded and shaped him into the man he is today.
Dr Patterson remembered Dr Munroe as a man who was never afraid to speak his mind or stand up to the government. He said Dr Munroe spoke the truth "to the powers that be" without hesitation or regret and although he may not have been appreciated until after his death, Dr Munroe always carried the Bahamas with him, wherever he went.
"We in the Bahamas never really appreciated Dr Myles and Pastor Ruth but thank God the world recognised them as great people and great leaders who never forgot where they came from. For that we will always be grateful, he brought the Bahamas to the world," Dr Patterson said.
Dr Munroe and Pastor Ruth will be laid to rest today at 10am at BFMI on Carmichael Road.
They both died along with seven others in a tragic plane crash on November 9 in Grand Bahama.