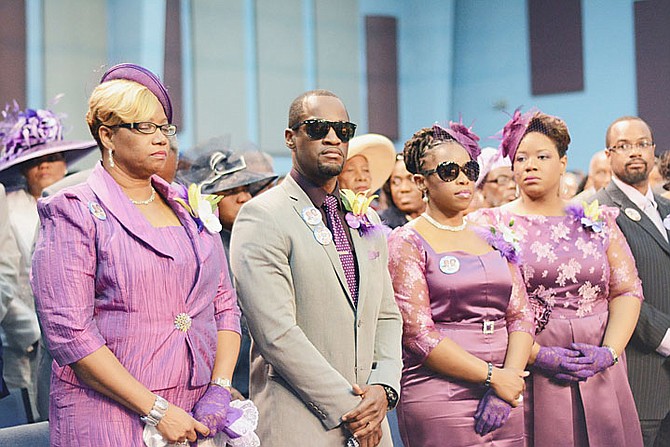 By RASHAD ROLLE
Tribune Staff Reporter
rrolle@tribunemedia.net
FAMILY, friends, dignitaries and churchgoers said their final goodbyes to Dr Myles Munroe and his wife Ruth during a celebratory service at Bahamas Faith Ministries International yesterday.
Thousands of people, including some from around the world, packed BFMI's Diplomat Centre on Carmichael Road for the nearly seven-hour state-recognised funeral.

It was a culmination of three weeks' mourning in the country after Dr Munroe's Learjet crashed into the Grand Bahama Shipyard on November 9, taking the lives of all nine on board.
Dr Munroe, 60, founded BMFI and was senior pastor at the time of his death.
For many in attendance, they were paying respects to the Bahamas' "greatest son" and the partner most fit for him.
Tissues were available during the service, but were hardly needed as rousing performances and tributes for the couple punctuated the event.
Dr Munroe was hailed as "transformative," said newly-appointed BFMI Senior Pastor David Burrows during his welcome address, introducing a refrain that was repeated in the testimonies of the speakers who knew and loved Dr Munroe.
Ruth Munroe was hailed as "soft-spoken" but "confident," a kind, convincing leader and a supportive wife who had a penchant for wearing stylish outfits.
Long lines leading to the Diplomat Centre began to form as early as 7am.
Those unable to find a seat in the room where the funeral was held sat upstairs or outside the church, underneath a tent, watching large screens where proceedings were broadcast.
People from all walks of life were present, some from as near as the Carmichael community, and some as far as the continent of Africa, where Dr Munroe often ministered.
One African representative, in paying tribute to Dr Munroe and his wife, called them "papa" and "mama."  
The ceremony mixed intimate reflections on Dr Munroe and his wife with calls to move forward with their purpose driven message about living for the Kingdom of God.
In her first public statement following the death of her parents, Charisa Munroe stood before the packed church and said: "We have lost one of the greatest fathers and mothers and king and queen to have ever lived. It is only because of my faith that I could stand before you today and declare that Dr Myles Munroe and Ruth Ann Munroe are not dead. They will forever be our foundation of strength, of knowledge, of wisdom."
Some who paid tribute to the fallen icons had problems giving tributes under the ceremony's time constraints.
"Their lives speak louder than anything we could ever say today at their funeral. They preached their own funeral," said Dr William Wilson, president of Oral Roberts University, the institution which Dr Munroe and his wife attended more than three decades ago.
Prominent local pastor Bishop Neil Ellis delivered one of the service's most well received tributes.
"Myles Munroe was the most recognised name of any Bahamian who has lived," he said, attracting applause. "He touched the lives of people all around the world but his priority was always the Bahamas."
Bishop Ellis revealed that in one of his last conversations with Dr Munroe in August, the pair agreed to co-ordinate a religious revival like one that attracted thousands to Clifton Park several years ago.
They felt the country was headed in the wrong direction, he said.
"'Neil, you and I are going around the world trying to fix other countries and our country is going to hell,'" he said Dr Munroe told him recently.
In the final year of his life, Dr Munroe had "sought to be a champion of the collaboration between church and state," he added.
House Speaker Dr Kendal Major urged the country to rename Carmichael Road after Dr Munroe and to integrate a Myles Munroe Leadership Institute into the planned University of the Bahamas during his warmly received tribute.  
Prime Minister Perry Christie, opposition Leader Dr Hubert Minnis, and international singers Cece Winans and Carlos Seise were among those who either paid tribute to the deceased or performed in honour of them.
Dr Jerry Horner, a mentor to Dr Munroe, gave the eulogy.
When the service ended shortly after 4:30pm, to be followed by their burial at the nearby Lakeview Memorial, Royal Bahamas Police Force and Defence Force officers gripped the coffins draped in the colours of the Bahamian flag and carried the bodies of Dr Munroe and his wife out of their church for a final time.