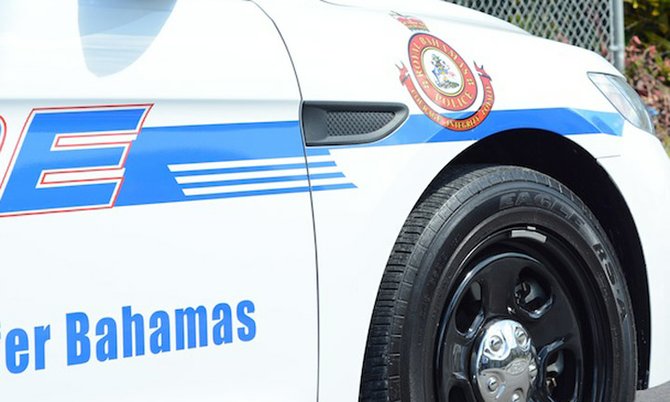 By SANCHESKA BROWN
Tribune Staff Reporter
sbrown@tribunemedia.net
FOUR days after a police officer was shot in the head and killed, Assistant Police Commissioner Stephen Dean and a team of officers canvassed the crime scene and surrounding community searching for clues that could point to a suspect.
Sergeant 145 Wayne Rolle was shot at point blank range in the back of his head as he sat in a jeep around 7pm with a female friend on Durham Street off Montrose Avenue last Thursday.
Hours after his murder, police arrested a man recently released on bail for a double murder. However, the man has since been released from police custody.
Police have made no other arrests in relation to this murder. Sgt Rolle's death was one of five killings that happened last week.
ACP Dean said while all murders are heinous acts, the murder of a police officer warrants a little more disgust. He said police do not believe they can solve this murder without information from the public.
"We are here to revisit a scene where one of our officers was shot a few days ago. We thought it was fitting that we come back here to see if we can find any piece of evidence that can help us solve this matter. We are following some lines of inquiry, but without the public's support we do not believe we will have a break in the case," he said.
"We are pleading to members of the public who remember passing this particular area, who might have seen something that seemed unusual, who may have been passing around 7pm Thursday night to please come forward, you do not have to give your name. Someone knows what happened that caused this officer to die, leaving his children alone. We need to being closure to this matter, we are cognizant that there are other homicides happening but sometimes it gets a little higher when you hear a law enforcement officer has been killed. An officer who has for years protected our people, sacrificed for our people now his life was sacrificed to homicide."
As police canvassed the area,The Tribune spoke to several residents in Durham Street who said despite the murder, they still feel safe.
Barbara Taylor, who said she has lived in the area for more than 20 years, said: "I feel safe through here, through this corner we have each other covered. I still feel safe, I still sit out in the front of my yard everyday. I was shocked when it happened but it does not change my feelings about my community."
However, one resident, George McCartney, whose sister Maud McCartney, 73, was brutally killed in July, said he is angry at the amount of crime in this country.
He said no matter how many "walk-a-bouts the police do" he will "never feel safe".
He said: "I feel angry. In July of this year my sister was murdered on Collins Avenue and up to now no one has been arrested. When I hear about these things happening every day and I watch the news and I see the nonsense police talk about, but the real question is why doesn't someone go down by the justice department and see if they could stop letting these criminals out on bail five minutes after they are arrested? The police are doing a pretty good job, but five minutes later the criminals are back on the streets laughing at police. The criminals believe they can do anything in this country and get away with it and the rest of us are sitting ducks."
ACP Dean also appealed to parents who may be harbouring and benefiting from the proceeds of their "criminal children" to turn them in "or face the consequences".
Anyone with information about this homicide is asked to contact police at 911 or 919, the Central Detective Unit at 502-9991 or Crime Stoppers anonymously at 328-TIPS.