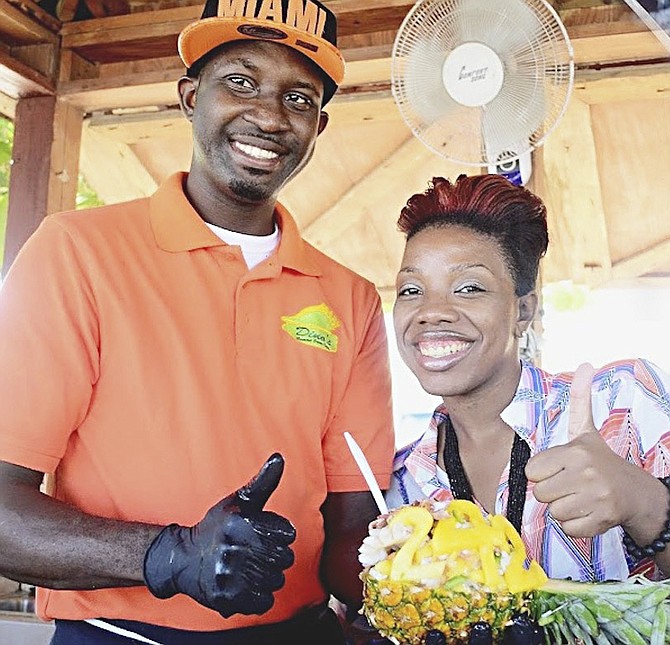 By ALESHA CADET
Tribune Features Reporter
acadet@tribunemedia.net
HER TRANSITION from mainstream news to communications relations gave Sasha Lightbourne the extra time and energy to create, produce and host her very own food related web show.
After starting with an exploration of her love for food, doing the research, and studying ideas for the behind-the-camera work, Sasha created "Happy Foods 242", a new, fun series that showcases food and drinks at various establishments throughout the Bahamas.
"The show was an idea in my mind for many years but being a journalist on the beat made it nearly impossible as I worked long hours and just never felt I had the time. I love food, always have, and I was never a picky eater. My mom told me that I started eating solid food from a very early age. Also, my parents exposed me to eating out from a young age as well and that just developed my love for food over the years. My motto is food is the source of life and that is true about me," said Sasha.
After working as a journalist for seven years, Sasha transitioned to being the communications officer for the Ministry of Finance (VAT Department) in September of this year. She said communication is a very big part of her life and her journalism background is the foundation for that.
And Sasha has been able to use her journalism skills to her advantage in her new venture. Because she was known to people as a news reporter, she said people already saw her as a credible source. She said viewers have already come to rely on her as the host of the new show and trust her to select good places to eat and to take them behind the scenes of kitchens the average person will never see.
"Being a journalist/communications officer gives the people being interviewed and the watcher insight into these establishments. It allows them to see the character of the owners and chefs, and be able to apply a story to them. Most times we go out to eat and don't realise that we are helping to facilitate dreams, and that's where the magic is. As much as I love food, the stories behind the way the establishments came about are exciting and intriguing to me. A dream of mine is to open a restaurant someday, so while the show is fun, unscripted and very exciting, it's also educational not only for the viewer but also for me as the host," said Sasha.
With a full season of nine episodes released so far, Sasha has been able to take Happy Foods 242 into places like Da Glass Kitchen, Mojo's, Sur Club Sushi, Gone Fish'n, Van Breugels Restaurant and Bistro, the International Cultural Festival, Dino's Gourmet Conch Salad Stand, Sweet Gems and Bahama Grill, which was featured in the finale.
Sasha said all of the staff members she has come into contact with at these establishments are people she already knew, so it was easy to get thm to sign on for a Happy Foods 242 episode.
The team is currently working on a surprise episode that is now in its production stages. She said the show has been funded out of pocket without sponsorship, but this is something which will change in a few weeks.
"The feedback has been great and people love it. The overriding concern is our audio levels, but we will work on that. I don't want to say too much, but know this, we know our shortcomings and they have been addressed, so the best is yet to come. You just have to stay tuned. It's like a baby learning to walk – we started to crawl, tried to get on our feet, fell down, got back up, fell down and got back up again. It's a continuous work in progress," she said.
For Sasha, her hope is for the show to go as far as God allows it. She hopes to take Happy Foods 242 to the Family Islands in the new year.
"This show is bigger than me as the host. It's my team, it's the restaurants, their owners, staff, and definitely the food. The show is destined for greatness and the only direction we will go is up," said Sasha.
She said the show quickly went from zero followers to nearly 500 on Instagram in October before the first episode was even released. After nine shows, Happy Foods 242 now has over 1,300 followers on Instagram, more than 600 on Facebook and a high number of views via the Happy Foods 242 YouTube channel.
The Happy Foods 242 team includes Sandena Neely, assistant producer; Jay Isaacs, director and photographer; Lucena Sawyer, make-up artist; Janet Clarke, hairstylist; clothing is provided by Closet Essentials242.
The team has already began production on season two which will start in mid-January.