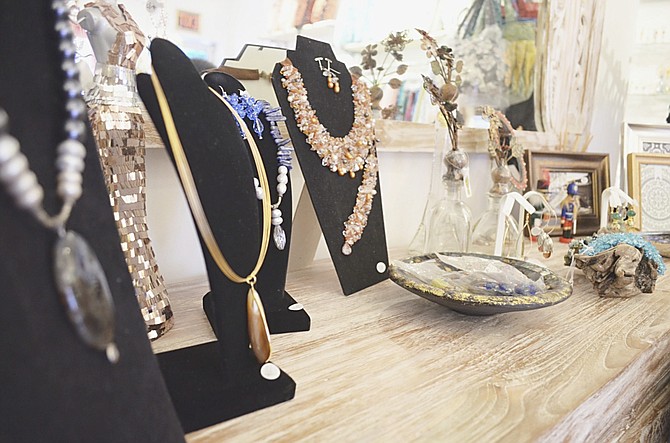 By JEFFARAH GIBSON
Tribune Features Writer
jgibson@tribunemedia.net
FEAR of the unknown sometimes stifles even the most confident people when it comes to starting a new entrepreneurial venture. But artists Deborah Weech and Erma Saunders remain undaunted by the challenge and have now opened their very own gallery and boutique.
The two sisters officially opened the "Catherine & Carolyn"  gallery boutique last month and are inviting the public to view their artwork and other craft items in the store. 
The establishment bears the middle name of each sister and is located in the Henrea Carlette Plaza on Cable Beach. 
It features fashion, handmade jewellery, pillows, straw work, quilted pieces and an art gallery. Works by the sisters, as well as by sculptor and potter Joann Behagg, artisans Maria Chisnall, Junko Yamaguchi and Bernice Adderley can also be found in boutique.
Both Deborah and Erma were motivated to open "Catherine & Carolyn" after having a successful showing at the Bahamas National Trust's 2010 and 2011 Jollification.  
"Although opening a business has its risks, we asked ourselves, 'Why not?' Both Erma and I have been artists for as long as we can remember. I received a credit in art in the GCE examinations and later studied Visual Art at university. In 1986, Erma won first place in the Central Bank of the Bahamas' Art Competition and later went on to study Graphic Art at the Art Institute of Boston," Ms Weech said.
"There is wide range of artwork by both sisters on display in the gallery including watercolours, acrylic pieces, pastel paintings, pencil drawings and prints. Pottery by Johann Behagg is also in the store. Simply elegant angels would bring calm to any setting and be a constant reminder of the meaning of Christmas. Her other pottery pieces include colourful teapots and mobiles."
In addition to the artwork on display there is also unique hand-made jewellery made by Deborah. Other items include a selection of accessories, stylish tops, robes, aprons, sarongs, scarves and perfume bottles for women.
"We have premium quality quilt products by quilters Maria Chisnall and Junko Yamaguchi. Beautiful gift items include an absolutely wonderful and artistic Christmas Advent calendar and Christmas quilt by Junko, and beautiful, artistically designed quilts and purses in colours that pop by Maria. There is also beautiful well-made straw work by Bernice Adderley including one-of-a-kind straw clutches, handbags and wallets. We also have vibrant coloured cushions made by my sister, Erma, that would brighten any room," Ms Weech said.