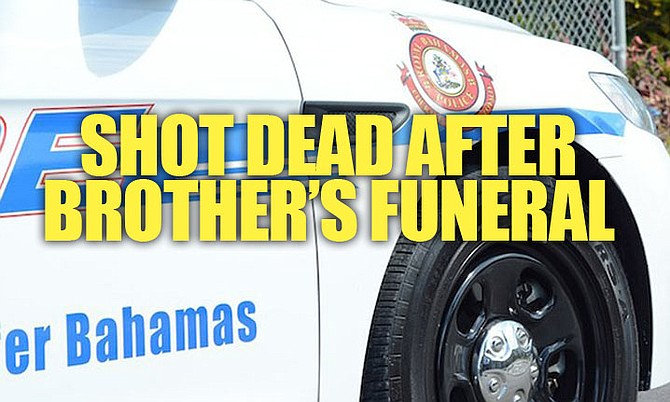 By RASHAD ROLLE
Tribune Staff Reporter
rrolle@tribunemedia.net
AN 18-year-old youth on bail was killed Saturday after attending the funeral of his brother who was murdered two weeks ago.
The slain teen was wearing an ankle bracelet and police confirmed he was just released on bail "for a serious indictable offence."

Police Assistant Commissioner Anthony Ferguson declined to identify the victim but confirmed to The Tribune yesterday that he was the brother of one of two men shot and killed two weeks ago in the vicinity of Nicholls Street. -
Byron Saunders, aka "Bones", and Jermaine Rolle, Jr, were killed on November 28 in separate incidents just minutes apart in the Yellow Elder Gardens area. It is suspected that they were killed by the same gunmen.

At the time, Rolle's family members claimed that his murder was connected to his father's killing in 2010. Meanwhile Saunders' mother, Karen Joffre, said she had another son who was killed nine years ago.
According to police, after leaving his brother's funeral, the country's latest murder victim was travelling with his 14-year-old brother around 1:30pm when they stopped at a traffic light on Soldier Road near Robinson Road.
Then two masked men, armed with handguns, jumped out of a gold coloured vehicle and shot at them multiple times before speeding off.
The 14-year-old was hit several times and at last report was in hospital in critical condition.
The victim was pronounced dead when he arrived at the hospital.
His death brought the country's murder rate for the year to 116, three shy of last year's tally.
Speaking to reporters after Saturday's shooting, Assistant Commissioner Stephen Dean said police are challenged with persons on bail either committing crimes or becoming victims themselves.
"This is the challenge police are faced with," he said. "We do our part every day to get these people before the courts. We are doing it. Do we have to find a way as a country, all the systems of justice have to work together to make sure we keep these persons locked behind bars because as long as they are on the streets they are not going to work, they are going to continue with the life of crime and will continue to use the firearms, they will continue to become a menace to society.
"We need now the entire country, everybody, we are at a crossroads right now and if the issue of people being released on bail in a short period of time, that is something we have to look at. We know what the problem is in this country and we have to solve it."