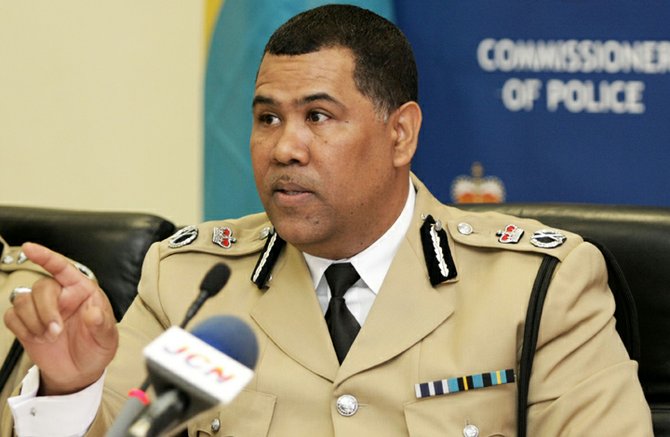 By AVA TURNQUEST
Tribune Chief Reporter
aturnquest@tribunemedia.net
POLICE Commissioner Ellison Greenslade railed against the release of prolific offenders on bail after a man was killed in a confrontation with two police officers.
Mr Greenslade explained that the "relatively young" Bahamian man approached two on-duty police officers in an attempt to kill them sometime around 2:30am at Malcolm Road west on Saturday.
However, one of the officers quickly drew his pistol and shot the suspect first.
The man, who was said to have been known by police, was pronounced dead at the scene by Emergency Medical Services. The case will be turned over to the Coroner's Court as a matter of priority, he said.
Mr Greenslade said: "The young man had the ability to kill, had the propensity to kill and that young man was prepared to kill those two officers. I thank God that the officers were properly armed and properly trained and were able to in the face of that confrontation to react quickly and to neutralize the threat of harm to themselves."
Mr Greenslade said the outcome was the result of a change in police strategy more than two months ago that saw increased saturation patrols and specialized operations with armed uniform and undercover officers.
He also added that the attempt on the life of police officers was not a new phenomenon as he recalled two separate attempts made on his life during his tenure.
"The strategy delivered good results for us this (Saturday) morning," he said, "thank God I don't have two dead police officers this (Saturday) morning because while someone was assuming it was business as usual, I had two officers armed and in a place where a bad person did not expect."
"Everyone is fearful and you don't want to put the wrong information out there," he said, "this is not a new phenomenon."
"Evil is not a new phenomenon, if a person is evil, has run afoul of the law before, has murdered before, has spent time in prison before in a maximum security cell, and is back on our streets and is not prepared to change, a confrontation with such a person can be very violent."
Mr Greenslade said: "That is why we continue to train our officers properly, we ask them to use good judgment and we arm them. There are significant firearms out there."
"Anyone that takes on a police officer with an offensive instrument, a deadly instrument like an illegal gun, is making a bad decision."
Mr Greenslade spoke to the media at a press conference held at police headquarters on Saturday.
"I don't believe it's a fair position to continue to ask the Commissioner and members of the Royal Bahamas Police Force," he said, "what we are doing to stem the incidences of murder and grievous harm and serious crimes in this country, when we are arresting the perpetrators who are prolific serious offenders and we are taking them before the court, black and white with case files, and we see these people a short time later back on our streets."
Mr Greenslade pointed to the recent release of a gun trafficker by a Supreme Court judge last week, adding that senior officers were now on alert to rearrest given that the serious offender was back on the streets. He said he took a personal interest in the case when the suspect was initially arrested, and stressed that his file be managed carefully to ensure that everything was done properly.
"This person was on bail for possession of four illegal pistols brought into this country," he said.
"A person in possession of four guns is a firearms trafficker. We charged that man and took him to court, he was remanded by the Magistrate's court and I'm now doing my due diligence (Sunday) to find out what went wrong and where it went wrong, so that I might further brief my minister."
Mr Greenslade said: "That is not in the police domain and I'm not going to allow anyone to put that back in the police domain. What is unfortunate is that now we have a very significant problem, because I'm of the view if that guy had four guns, which we found, he probably has a lot more than that.
"I cannot ignore that it's a problem," he said, "the public deserves more. It's a problem."
Mr Greenslade added: "I'm not going to get into the arguments with anybody over numbers, I'm not going to get into any silly conversations to distract us the singular focus that I have, which is to follow the mandate given to us in law to prevent and detect crime, to apprehend offenders, to bring these people before the courts when they commit these crimes whether they're misdemeanours or indictable offences. So what we'll do is we'll make the arrest again, and we'll go back to court again, it's as simple as that."