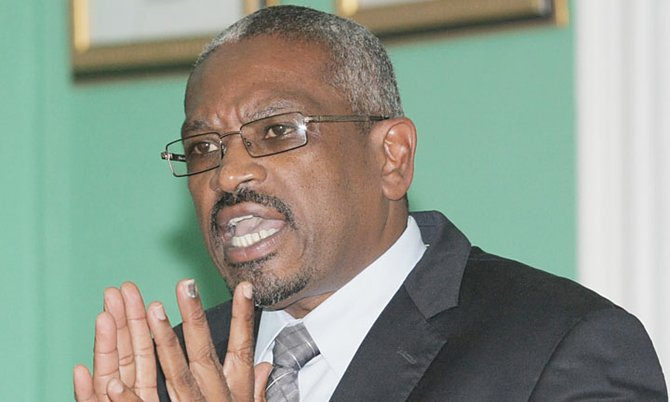 By SANCHESKA BROWN
Tribune Staff Reporter
sbrown@tribunemedia.net
WITH just two weeks until the New Year, Opposition Leader Dr Hubert Minnis said the government has once again "failed the Bahamian people" by not bringing promised National Intelligence Agency legislation to parliament.
In June, National Security Minister Dr Bernard Nottage said legislation to regulate the controversial NIA would be brought to the House of Assembly shortly after the government ended the 2014/2015 budget debate.
In September, State Minister for National Security State Minister Keith Bell told The Tribune the legislation was still being tweaked, but Dr Nottage was still spearheading efforts to regulate and formally establish the NIA before the end of the year.
However, the legislation has not yet been brought to parliament.
Dr Minnis said yesterday that he "never believed" the government would table the legislation because the government has been fooling the Bahamian people "from day one".
"I am not surprised," he said. "They campaigned on promises, came in on these promises after the election and still haven't done anything. This (organisation) is still operating illegally, without any rules or guidelines. This is just another one of their promises (that) they can not live up to or keep."
The PLP promised to establish the NIA in its Charter for Governance ahead of the 2012 general election.
Earlier this year, then-FNM Deputy Leader Loretta Butler-Turner suggested that the agency was used to spy on civilians.
However, Dr Nottage has dismissed Mrs Butler-Turner's concerns as "foolish".
In May, Dr Minnis called on the government to shut the intelligence agency down because it was operating "outside the law".
According to Dr Minnis, the NIA has created too many unanswered questions that in his view pose a laundry list of threats for the Bahamian people.
Dr Nottage has said while law enforcement agencies currently gather their own intelligence, the NIA would be a hub where they would combine their efforts in order to pinpoint and address threats to the national security of the country.
"The agency is set up to create new and innovative synergies and employ methods and mechanisms geared towards reversing criminal conduct," Dr Nottage said previously.
"We indicated that we will constitute a head of law enforcement agencies that includes the police, the defence force, customs, immigration and the agency itself. They meet regularly to discuss national intelligence matters (and) they co-operate with each other.
"Their job is to know what is going on in the Bahamas. The agency is responsible for the strategic oversight of intelligence and to create proactive solutions to perceived threats to our commonwealth. It stands to become the country's premier intelligence body."