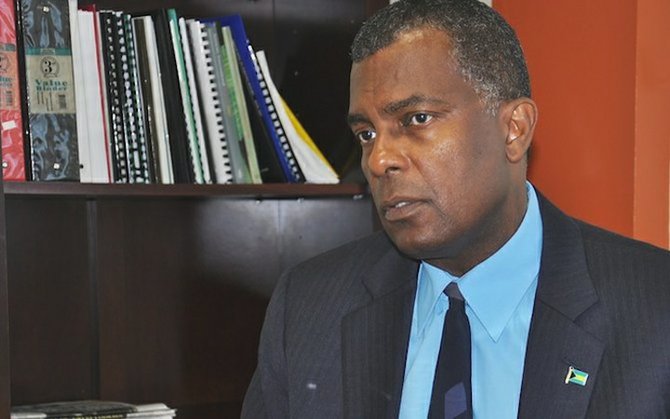 By AVA TURNQUEST
Tribune Chief Reporter
aturnquest@tribunemedia.net
THE Carmichael Road Detention Centre has been operating without governance procedures or rules since it was established in the mid-1990s, Immigration and Foreign Affairs Minister Fred Mitchell revealed yesterday.
Mr Mitchell explained that legislation drafted to support the new immigration policy will also establish a set of regulations that will provide a regulatory framework similar to the country's prison.
Mr Mitchell said he planned also to recommend that an independent civilian oversight panel be established to process complaints and hoped to have legislation tabled in parliament when the House resumes in the new year.
"In advance of those detention centre rules coming into force," he said, "I will be recommending to my colleagues that such a group be put in place immediately to deal with the question of complaints and those sorts of measures, and to give independent advice on those complaints and to review the procedures.
"The detention centre was set up without any governance procedures and rules so it's just going on general principles of management. What needs to happen is similar to the prison – there needs to be a set of regulations which govern the detention centre."
Mr Mitchell explained that the recommendations were made as part of a commission report on the conduct of the detention centre.
He spoke to the media at the Department of Immigration yesterday, where he confirmed that 228 people were repatriated to Haiti that morning. Mr Mitchell said that a group of Cubans was scheduled to be deported tomorrow morning, adding that those families with children were being held at a separate facility.
The new legislation will reinstate the Belonger's permit, an identification card for two categories of people: persons born to non-Bahamian parents, and children of Bahamians who are unable to automatically pass on their citizenship.
"It's already drafted," Mr Mitchell said. "With these things it's just working its way through the system. I hope that as soon as parliament reconvenes in January we can move it forward. That does not prevent us from granting residency permits as we speak, or permits to work."
Until the legislation and infrastructure to provide the new cards is implemented, Mr Mitchell said: "I can't say that you must carry your passport, that's not for me to decide. What is prudent is to have something which identifies you with the Bahamas and the right to live and work here.
"For most people who are Bahamians that would be your national insurance card, a work permit issued or residence permit which has photograph and status on it."
During his closing statement to the 2013/14 Budget Debate last year, Prime Minister Perry Christie said the government was in the process of putting in place more controls at the detention centre to provide the required comfort and necessary discipline.