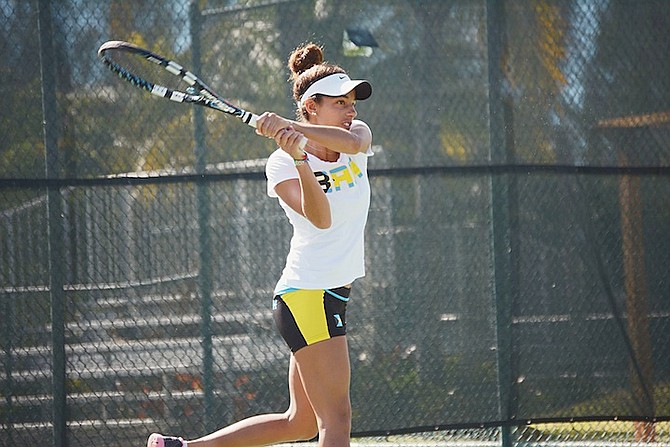 By BRENT STUBBS
Senior Sports Reporter
bstubbs@tribunemedia.net
It was deja vu for Kim Griffith-O'Kelley and Dyphany Mortier as their big rivalry in the Bahamas Lawn Tennis Association back in the 1980-90s was renewed when their daughters Kerrie Cartwright and Dominique Mortier hooked up in the final of the Giorgio Baldacci Elite Open National Tennis Tournament.
At the National Tennis Centre on Friday, top seed Cartwright took the initial meeting in the ladies' final with a 6-1, 6-0 decision over No.2 seed Mortier (and not Sierra Donaldson as indicated in The Tribune). Both O'Kelley and Mortier were on hand to witness the continuation of their long-time rivalry. The duo came back on Saturday as they teamed up to win the doubles title 6-2, 6-2 over the team of Danielle Thompson and Erin Strachan.
On the second generation of players participating, both mothers and the daughters were quite thrilled to be a part of an historic occasion. It marked the first time in Bahamian sports that the combos faced each other in the final.
"It's almost the same age between myself and Kim and Kerrie and Dominique," Mortier said. "It was just so funny, but I actually told Dominique that she actually played Kerrie better than I ever played Kim. It wasn't so much from the score standpoint, but it was the way she played. The score was really not indicative of how well they played. They were really going after each other and she was hanging in it.
"Kerrie almost has the same big forehand that Kim had and they have almost the same game with that hard baseline game, so it was good to see Dominique just hang in there with her. I definitely see them continuing to play each other in the future. Dominique still has some more growing to do and I think you will see her game explode in the coming years. So I see those two going at it for a while along with the other players like Iesha (Shephard). I think they will have a good team in the future."
The last time Mortier and O'Kelley played was in 1993 in the Heineken Open at the Waterloo Tennis Academy when the latter won over the former. They went on to represent the Bahamas on the Fed Cup team, something that they envision watching their daughters do as they folllow in their footsteps.
O'Kelley, now 50, and Mortier, 46, were quite impressed with the performances of their daughters, who are now excelling on the collegiate level.
"Me and Dyphany not only played against and with each other in doubles in local tournaments and on the national team, but you never know what will happen with both of will get to travel together," O'Kelley said. "It's just so funny that 20-30 years later are children are competing against each other.
"Dominique, from what I remember before she went off to school, was very erratic. She wasn't consistent. but she's got so much potential. She really surprised me. It's not indicative of the score of that match. Dominique played very well. She moved the ball very well. She's smart. Wherever she is right now, she's on a path to success. Even Kerrie said she hit some very nice balls."
Cartwright, a senior at Florida State University after she transferred from Tyler Junior College, said the tournament was a good one, although the majority of the players who normally play on the Fed Cup team did not participate.
"There was a lot of new faces that I've never seen, but the girls fought hard against me," she said. "My last match against Dominique was probably my toughest. She played really well and I won. We also played in doubles and she played really well. So I'm looking forward to playing against her and with her in the future."
Following in the footsteps of the rivalry between the two mothers, Cartwright said it was so cool for her and Mortier to face each other.
"Nothing really pans out from generation to generation, but it was really cool to see that they played and now we are playing against each other," said Cartwright, who is in her last semester of tennis before she graduates in the fall. "We mentioned it to each other and had a good laugh, but we didn't really talk about it. Hopefully we can do it again next year."
Mortier, a freshman at St Bonaventure University in St Bonaventure, New York via American Heritage High School in Plantation, Florida, said she went into the match quite excited to play against Cartwright for the first time.
"I always looked up to her as a tennis player and I always wanted to play against her to see what happens and how I would play against her," she said. "I think I played very well. This was probably the best I've played all year. I just enjoyed playing with her and I definitely would want to play her again.
"We played very well together as a team as well. We had a lot of fun out there and we just went out there and did what we had to do."
As for reliving the rivalry that was started by their mothers, Mortier said it was quite interesting to keep the memory alive.
"I didn't really think about it, but after the match, my mom was talking to Kim and they reminded each other how they are almost the same age and it's almost the same age difference between me and Kerrie, so that was so interesting to see. I think for them it was like deja vu. It was just so crazy.
"I know I'm definitely looking forward to playing against Kerrie again in the future."
It's only fitting that the two daughters will play again just like their mothers played quite a number of times against each other.