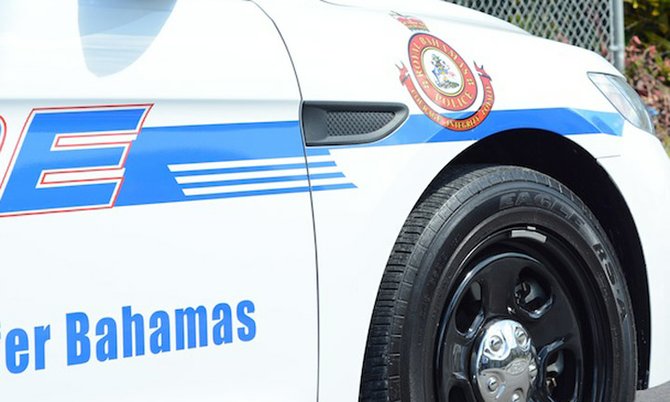 By NICO SCAVELLA
Tribune Staff Reporter
nscavella@tribunemedia.net
TWO men are now in police custody in connection with the murder of Sergeant 145 Wayne Rolle, Police Commissioner Ellison Greenslade said yesterday.
Mr Greenslade said the men are assisting police "very positively" in their investigation.
Sgt Rolle was shot and killed while sitting in his car two weeks ago.
Mr Greenslade made his statements during a press conference in the Paul H Farquharson Centre at police headquarters yesterday morning.
Although he did not divulge the names of those in custody, Mr Greenslade said that the two men are "very well known to police".
"Based upon intelligence and acting on very good information and tremendous support from members of the public, teams of police officers executed warrants, search warrants on two properties, one at Milton Street and Quackoo Street during the wee hours of the morning on Saturday past," Mr Greenslade said. "A number of adult Bahamian men were arrested, including females. We are satisfied having made those arrests that we now have in our custody two adult Bahamian men who are assisting us very positively in the investigation into the death of the late Sergeant Wayne Rolle. We are not groping in the dark. We have recovered evidence, property and we are satisfied that our investigation is now taking a positive deliberate direction. We should be able to come back to (you) as a public very soon that charges are being prepared."
Sgt Rolle was shot in the head and killed as he sat in his vehicle with a female friend while off duty on December 4. The incident took place at about 7pm on Durham Street off Montrose Avenue.
Assistant Commissioner of Police Stephen Dean said police received reports of the shooting, and upon arrival, they found Sgt Rolle slumped over the driver's seat of his car with gunshot wounds. Mr Dean said a "female companion" was in the vehicle with him at the time of the shooting, but was unharmed.
The two gunmen were said to have fled on foot.
A man currently out on bail for a double murder was arrested after the murder, however he was released from custody a short time later.
Since Sgt Rolle's death, Police Staff Association Chairman Dwight Smith has called on the government to allow off-duty officers to be armed. However, Mr Greenslade has responded to Mr Smith's comments, calling them "absolute nonsense".