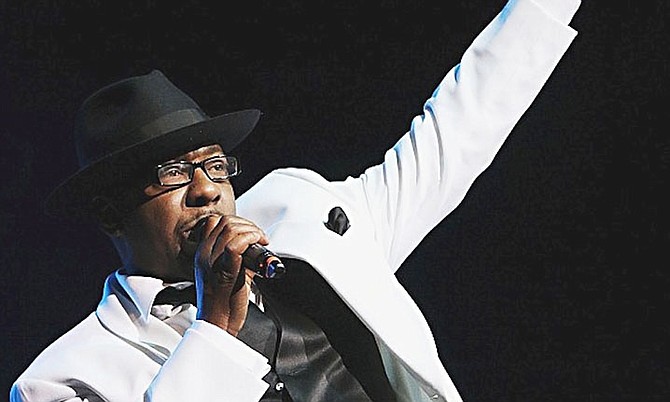 By JEFFARAH GIBSON
Tribune Features Writer
jgibson@tribunemedia.net
FORGET Santa Claus, '80s R&B superstar Bobby Brown is coming to town.
The Grammy Award winning singer will join forces with one of the biggest Bahamian bands, Visage, to close the year out with a bang during the Jingle Ball concert.
The star, along with his wife and manager Alicia Etheredge, their five-year-old son and an entourage of eight, are expected to land in Nassau today to enjoy Christmas before he hits the stage in Grand Bahama. 
In addition to Bobby Brown, the Bahamas' very own Visage will be performing their famous songs like "Hold Ya Head" and 'Still Need a Man".
During the concert, Brown is expected perform some of his greatest hits, including "My Prerogative", "Every Little Step" and "Humpin' Around". The Jingle Ball concert will be held on December 27 in the Grand Lucayan Ballroom
"This is definitely an event the grown folks will love," said Leteasha Lord, event coordinator. "The event will be on the last weekend of the year and GreatMinds (promotion company) will make it a party to remember. We decided to put on the show because we realised that there were tons of events happening this Christmas, but none geared towards the mature audience."
Bobby Brown rose to fame in the '80s as a part of the group New Edition and experienced continued success as a solo artist, with his second album producing five top 10 hits and selling 12 million copies worldwide, making it the top selling album of 1989. 
While Brown is sure to attract a more mature crowd, Visage will be there to attract a wide variety of people, as they are not just famous in the Bahamas, but internationally as well, having performed at Miami Carnival in 1998, 2002 and 2003 and Trinidad Carnival in 2002 and 2003.
Ms Lord told In Ya Ear that Bobby Brown was the perfect artist to accompany Visage for the first ever Jingle Ball by the GreatMinds Company. 
"There were a number of artists we could choose but we wanted someone who would complement Visage. There are a lot of throwbacks from the '80s and '90s who perform slow music, but we wanted something high energy, something upbeat, something that people can relate to. We did not want to go from the energy Visage would bring and move on to a very low, mellow artist who is just going to perform love tunes. So we were looking for someone who would fit the event," she said.
"Getting (Bobby Brown) was not very difficult. We made a few contacts, we spoke to his manager who is now his wife, and after negotiations they were more than happy to come over. They were actually expecting to be in Mexico for the Christmas but they decided to spend Christmas in the Bahamas. This will be good for the Bahamas now because they will experience Atlantis and the Grand Lucayan Resort," she said.
According to Ms Lord, Brown performed in Freeport for the first time many years ago when his career as a singer was first getting off the ground. He has visited since, most notably when he and then wife, the late Whitney Houston, were filmed on vacation in the Bahamas for the reality TV show "Being Bobby Brown" some years ago.
"They are very excited to be spending Christmas in the Bahamas. Bobby Brown is excited about being here and getting back into Grand Bahama. He will put on a very great show," Ms Lord said. She said the Jingle Ball concert is the first of many event GreatMinds will be hosting over in the near future.
"This is just one of many. We will be doing a lot of interesting things as the years goes on," she said. "GreatMinds encourages all attendees to dress to impress and to get your tickets early so you won't miss out."
Tickets can be purchased at the Grand Lucayan Manor House and at Gizmos and Gadgets; they are $50 in advance for VIP tickets and $75 in advance for platinum tickets.