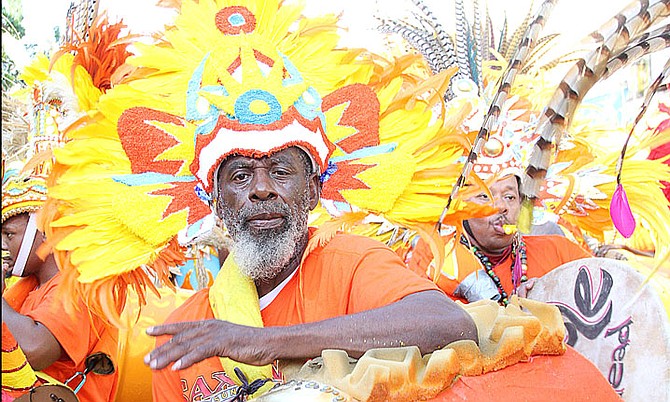 By RASHAD ROLLE
Tribune Staff Reporter
rrolle@tribunemedia.net
CHAIRMAN of the Junkanoo Parade Management Committee Douglas Hanna said yesterday he has not received any formal protests against the weekend's overturned Boxing Day results. 
Saxons leader Percy "Vola" Francis called for the resignation of members on the Junkanoo Corporation of New Providence (JCNP) and other Junkanoo officials after his group was placed second despite initially being named winners of the parade.
He told The Tribune yesterday that the Saxons will protest the Junkanoo results.
Other Junkanoo participants and fans were upset by the delayed results of the weekend's parade and vowed to lodge an appeal.
Mr Francis did not say when the group would do so, however, and it is unclear if any of the other major groups intend to protest the results.
Mr Hanna yesterday also addressed comments by those calling for the resignation of officials involved in putting on the parade.
He noted that he holds no official position and is not associated with the JCNP.
"Every year whoever is in charge of the JCNP will approach me and ask if I can serve as the parade management (chairman)," he said, adding: "I assist them with their preparations, but my real job starts around the time of the order of entry. Before that I would only communicate while we try to get things ready. So I  have nothing to resign from. My term is completed after this Junkanoo season. When protests are finished, I will send them in."
Mr Hanna said he doesn't believe he could take on the position as parade manager again given the present conditions of the parade. While he did not specify the issues that he finds troubling he had previously told reporters that the Boxing Day parade did not go well because of numerous delays and confusion.
He emphasised that changes must be made, including perhaps changing the time at which the parade begins.
In addition to delays, the weekend's parade was further marred when unofficial Junkanoo results were delivered some 24 hours after they were expected.
The results were expected on Friday evening, but were postponed to Saturday at noon when the Saxons were declared the unofficial winners ahead of the Roots with One Family third and Valley Boys fourth.
However, on Saturday night, Mr Hanna called a press conference to announce that those results were wrong and did not take into account full scores.
He said the actual parade winners were One Family, with the Saxons coming second and Roots third in the A category. The Valley Boys placed fourth while the Music Makers and Prodigal Sons were disqualified.