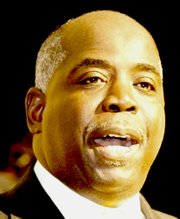 By RASHAD ROLLE
Tribune Staff Reporter
rrolle@tribunemedia.net
DEPUTY Prime Minister Philip "Brave" Davis said yesterday that he does not know if the government will establish a non-partisan commission to investigate a report that an official took a $300,000 bribe in 2000 to secure the purchase of a diesel generator for French energy company Alstom.
Mr Davis' comments came in response to statements by former Bahamas Electricity Corporation (BEC) Chairman J Barrie Farrington.
Mr Farrington expressed outrage over the bribery revelations and called for the "traitor in our midst" to be "revealed and made to pay a price for this unforgivable transgression."
Speaking to The Tribune outside Cabinet yesterday, Mr Davis said: "It's good to see that he is prepared to let the chips fall where they may and so they will. I don't know whether we will set up a committee. The matter is in the hands of the attorney general and she will advise us what is the best approach to take."
Mr Davis said he could not say when the public could expect to be updated on the matter.
Long Island MP Loretta Butler-Turner, who was a BEC board member at the time of the reported bribery, endorsed Mr Farrington's statements when contacted for comment by this newspaper yesterday.
"I know (Mr Farrington) to be a very astute, very upright chairman and certainly everything that he has said I will endorse," she said. "It was truly a pleasure for me to serve under such a man. I have no reason to question his effectiveness or integrity with regard to his tenure and I certainly will take his lead on what he has said."
The bribery claims were unearthed in a $720m plea agreement between Alstom and the US Justice Department. The plea agreement makes it clear that a Bahamian government official, in cooperation with a consultant identified as a US resident, used bribes to "obtain or retain business in connection with the power project."
The claims said that the French company paid more than $300,000 to the government official to secure the purchase of a slow diesel generator for the electricity company in 2000, when the Free National Movement was in control of the government.
Last week, Alstom pleaded guilty and agreed to pay a $772,290,000 fine to resolve charges related to a widespread scheme involving tens of millions of dollars in bribes in countries around the world, including Indonesia, Saudia Arabia, Egypt, and the Bahamas.
Documents obtained by The Tribune reveal that the French company hid payments to Bahamian officials, routing them through an American consultant who was a "close personal friend" of one person able to "influence" the awarding of BEC contracts.
None of those involved in the scheme is named in court documents.