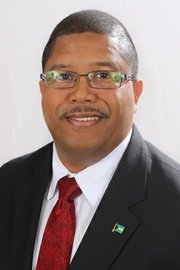 By SANCHESKA BROWN
Tribune Staff Reporter
sbrown@tribunemedia.net
FNM Deputy Leader Peter Turnquest yesterday criticised the government for failing to announce or address their plans for Social Services once value added tax is implemented tomorrow.
In a press release, Mr Turnquest, who is also shadow minister for finance, said on the eve of VAT, the government has no plan to provide relief to Bahamian families who are already suffering from a continued slow economy.
The Department of Social Services has a budget of $40m to spend on various social assistance programmes along with operational costs.

In September, Social Services Minister Melanie Griffin said the government expected to implement the initial phase of its conditional cash transfer system – a prepaid debit card – by the end of November.
Although she could not give a specific timetable for the Christie administration's social safety net reform, Mrs Griffin said the cash transfer programme would be in operation within several months.
The new debit card, officials told The Tribune, is designed to curb abuse of the food coupon system.
However, Mr Turnquest said the government has "rushed" VAT and is "not prepared" to lend assistance to those who will really need it.
"While the government will force the initiation of this increase in Bahamians' cost of living, it is doing so without due consideration to the circumstances of ordinary Bahamian families who are currently suffering from a continued slow economic recovery, where jobs are scarce despite the failed promise of 10,000 new jobs and mortgage arrears continue to rise as many families lose their homes, their most significant lifetime investment. To date, there has been no announcement of any plans for Social Services to address the specific impact that VAT will place on the poor in our country," he said.
"The education process and promulgation of VAT rules has been late, underfunded, and sloppy, leaving many questions unanswered and the institution and instruments fundamental to the effective implementation of the regime yet to be appointed or enacted. Their education campaign spent more time trying to argue why VAT was necessary than it did preparing us for VAT. Every explanation only begged even more questions."
Mr Turnquest also questioned why the appointment of a VAT comptroller has not been formally announced, with VAT coming into effect this week.
"On the eve of the tax, a VAT comptroller has still not been appointed forcing the financial secretary to do double duty as 'acting VAT comptroller' for an undefined period. This is unacceptable as the financial secretary, a competent individual, is inherently in conflict with his duty and responsibility to the ministry and ministers of finance.
"The VAT court has not been announced as required by the legislation," he said.
"They have failed to amend or enact the Freedom of Information Act passed under the last FNM administration and to propose a Fiscal Responsibility Act, which the government's own New Zealand consultant said should have come with VAT. They don't believe in Bahamians....and they apparently don't believe in their own foreign consultants either."
Mr Turnquest said without this crucial legislation, Bahamians will not be able to determine how VAT revenue is spent.