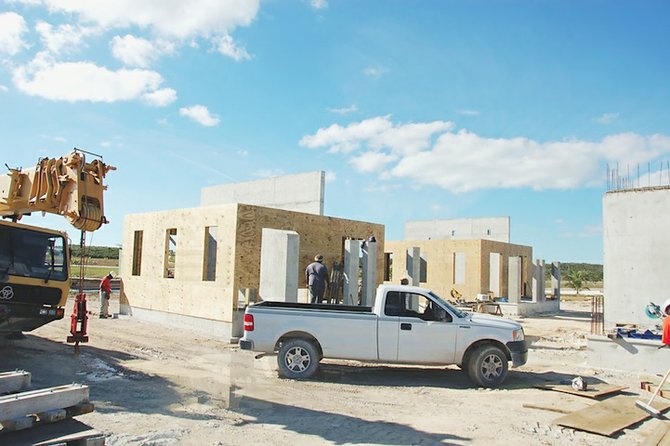 By NEIL HARTNELL
Tribune Business Editor
nhartnell@tribunemedia.net
An all-Bahamian investor team believes its $3.5 million boutique hotel will become a "magnet" at the heart of Schooner Bay, creating 20 jobs and a total $3 million economic impact for South Abaco.
James Malcolm, the The Sandpiper Inn & Cottages (Abaco) managing director, told Tribune Business that Schooner Bay's level of development and the improving global economy meant "the timing is right" to launch a development that has received all necessary government approvals.
Speaking after a Friday meeting between the investor group and Prime Minister Perry Christie, at which the Sandpiper's Hotels Encouragement Act agreement was confirmed, Mr Malcolm said the property was targeting Bahamians/south Florida for 50 per cent of its client base.
Emphasising that the Sandpiper's 40-bedroom scale was a model that had "worked well" for Family Island resorts, Mr Malcolm said he was looking as far afield as Europe for potential visitors.
He added that it would "complement" the Blackfly Bonefishing Lodge, which is located in close proximity, and create another "draw" for visitors, locals and residents at the heart of Schooner Bay.
"It's very exciting, and it's really good karma. We're excited to be doing something in our country," Mr Malcolm told Tribune Business of the Sandpiper project. "It's a model that's worked very well in Harbour Island, and should work at Schooner.
"We don't open our doors for 10-11 months. It's going to create a real draw for that place. It's going to be a magnet for the village, where the activity is going to be."
"It's just really exciting to do something that fits the place," Mr Malcolm added.
"The timing is right, we've come through five tough years in the toughest recession, and look at what's been built in Schooner Bay. There's homes here.
"The US economy is coming back a bit, and the good thing is how those model works in the Family Islands. We don't have to reinvent the wheel."
Mr Malcolm, who in 1995 worked as Pink Sands' general manager for Chris Blackwell's Island Outpost group, said the Sandpiper would have its own identity separate from other well-known boutique hotels such as those in Hope Town and Green Turtle Cay.
"We're going to be going after the local market," he told Tribune Business. "Fifty per cent is going to be the local market, split between Nassau and South Florida.
"I've also been laying the groundwork in Europe for almost a year in the UK, France and Germany."
With a marketing initiative lined up in Paris for later this year, Mr Malcolm said the Sandpiper would also focus on the Bahamas' traditional North American markets, especially since Canadian buyers - from four different provinces - were the largest homeowners at Schooner Bay.
For this reason, and given its US and Bahamian connectivity, the Sandpiper and its investors have partnered with Sky Bahamas as their "preferred airline", with the two planning multiple joint marketing initiatives for mid to late summer.
While the new property is just 100 yards from the Blackfly Bonefishing Lodge, and located on the same street, Mr Malcolm said the Sandpiper was pitched at a different market - being a boutique hotel, restaurant and bar.
Apart from the seven rooms in the inn itself, Mr Malcolm explained that the cottages and village he had run as a rental programme would also become part of the Sandpiper's inventory.
This, he added, would allow guests to choose from six different types of rooms, with all having a water view.
"We've got amazing flexibility," Mr Malcolm said, noting that the Sandpiper could accommodate the likes of weddings and corporate retreats, with the inn's third floor suite available for use as either a honeymooner's, presidential or family accommodation.
Praising the Government for its co-operation and support, Mr Malcolm told Tribune Business: "It was lightning fast how quickly we got the Hotels Encouragement Act agreement.
"We didn't ask for any favours, followed the protocols, and it was done in a couple of weeks."
Construction began on the Sandpiper in December 2013, with the inn's walls already primed to the first level, and work taking place on the cottages at the back.
The contractor, Lindroth Development Company, has 15 workers on the project full-time, with Mr Malcolm and his fellow investors - including the Sandpiper;'s principal - aiming for a soft Thanksgiving opening followed by a Christmas 2014 "ribbon cutting".
He added that the Sandpiper would employ 20 full and part-time workers when fully operational, and the property's restaurant was targeting up to 60 dinners per night served by Easter 2015.
Mr Malcolm told Tribune Business that based on a 60 per cent average occupancy, the Sandpiper was projected to have an annual $3 million economic impact, with the construction project involving a total $3.5 million investment.
He added that the Sandpiper would follow an economic model he established with Pink Sands, where "we hire friendly, hard-working people and train them in the necessary skills" if needed.
Mr Malcolm pointed out, as an example, that the Sandpiper would require 10-15 pounds of snapper per day, something that would generate income for local spear fishermen and help them afford new boats.
He added that he had also been "laying the groundwork" for the tourism multiplier effect, putting in place activities such as kayaking, eco-tours, spearfishing and flyfishing.
Mr Malcolm, though, declined to identify the main investor behind the Sandpiper.
Schooner Bay began development in 2007, and now has more than 30 houses and businesses centred around a viable harbour, with all utilities in place.
The development last year won the urbanism award from the Institute of Classical Architecture – a first for a Bahamian project.