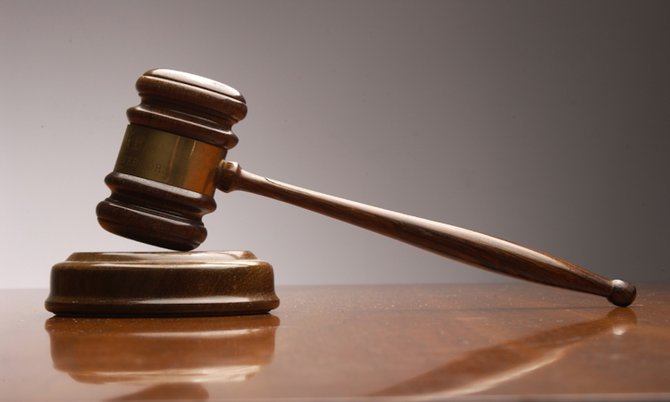 By LAMECH JOHNSON
Tribune Staff Reporter
ljohnson@tribunemedia.net 
A MAN hoping to be granted bail by the Court of Appeal had his hopes dashed yesterday when the judges rejected his application, argued by his lawyer for an hour.
Geoffrey Farquharson, on behalf of 22-year-old Elshadae Ferguson, tried to convince Court of Appeal judges that his client, scheduled to stand trial for murder in seven months, should be granted bail on the basis of an "unreasonable" delay.
In arguing before Justices Anita Allen, Christopher Blackman and Stanley John, Mr Farquharson was rebuked for not only failing to provide the court with copies of legal authorities to which he referred, but also for repeatedly speaking over the judges and for his "dilly-tree justice" comment that implied the type of justice being displayed by the court.
He immediately retracted his "dilly-tree" comment after being strongly advised to do so by Justice Allen.
Ferguson sat across from the judges as he followed the arguments.
Ferguson, of Bellot Road, faces a murder charge to which he has pleaded not guilty.
It is claimed that he intentionally caused the May 29, 2012 shooting death of Cordero Finley, who was shot at the Ballers Night Club on East Bay and Mackey Streets.
He was arraigned two weeks later in Magistrate's Court in connection with the murder and was remanded to prison after being denied bail.
Between then and yesterday's hearing, Ferguson received a September 2, 2014 trial date, but was unsuccessful in being granted bail when he applied to Justice Bernard Turner for a bond pending trial.
Ferguson appealed the rejection of bail to the appellate court where Mr Farquharson, yesterday, argued on his behalf.
The lawyer submitted to the judges that there was an unreasonable delay with his client getting a trial within two years of his detention and being arraigned.
He based his submissions on purported rulings by the Privy Council and his own calculations from his client's arraignments to his September trial date which rounds out two years and three months.
However, Justice Allen replied that "there's no set time for when a delay is unreasonable."
"It all depends on the circumstances," she added.
"Speaking for myself," Justice Blackman added, "at this distance, I think it would be irresponsible in the extreme to receive your application."
Mr Farquharson did not waver on this basis for appeal, maintaining that legal authorities suggested that the threshold for being tried in a reasonable time lay between detention and the outcome of the trial.
When asked by Justice John what, in his view, would be the threshold for trial within a reasonable time, Mr Farquharson submitted "two years."
"Are you kidding me?" Justice Allen asked, again maintaining that the lawyer's submission was not the only factor for a lower court judge to consider when deciding on bail.
"Can we say, at this point, that he (Ferguson) will not be tried in September?" Justice John asked.
"Furthermore, you have not put before us anything to show this," Justice Allen added.
"Moreover you are being premature. Two years will run into September. If the trial doesn't go through in September, then you have good grounds to come back," Justice Blackman said.
"Assuming you are correct," Justice John said.
Mr Farquharson attempted to rely on a case authority dating back two decades, but the court would not hear it because, in Justices Blackman and John's submission, the laws have changed since then.
"You haven't even done your client any favours by not supporting your arguments with authorities. You can't expect to come before us throwing out submissions like they're gospel and expect us to take it without doing any research for ourselves," Justice Blackman said.
Justice Allen inquired from Crown prosecutor Vernal Collie if parliament, in November 2011, had defined the constitutional threshold for how long a man could be remanded in prison while awaiting trial.
Mr Collie responded that this was done in the amended Bail Act which set the threshold at three years.
Mr Farquharson, however, submitted that the "statute is void" but then withdrew the comment after judges replied that "until it is declared so, it is the law of the land."
"And on the merits of this case," Justice Blackman added, "he has not spent two years."
"If this man had his case set down for 2015 or 2016, you would get no push back from this bench. As far as I'm concerned, your application is premature," he added.
"Mr Farquharson, I wonder if you are a part of the real world," Justice John asked.
"I am in the real world," Mr Farquharson replied, adding that it appeared to be a place that conducted itself as if it were dealing with "coconut tree" or "dilly-tree justice."
"You will retract that Mr Farquharson," Justice Allen said sharply. The lawyer did so immediately.
"You know what bugs me is when people come in here and don't get what they want, they attack the bench," she added, further expressing her displeasure at the "sapodilla tree justice" comment.
She further emphasised that judges also have to take into account the number of matters before the courts as well as the seriousness of the offence.
Justice Blackman added that Mr Farquharson showed "utter disrespect to this bench to spout everything you're relying on and not bring anything to this court to support it."
Mr Farquharson countered that this request could be met if the respondent "produces a response saying the time is reasonable."
"That's your responsibility," Justice John told the lawyer.
The two judges and Mr Farquharson tried to advance a response at the same time, which prompted Justice Blackman to reprimand the lawyer.
After hearing the last of Mr Farquharson's arguments, Justice Allen asked Mr Collie for his response.
The Crown admitted that he had not filed his skeletal submissions to the court although he had them with him at the proceedings.
Mr Collie objected to the application on the basis that the lower court judge had made his decision based on a number of factors, which included the strength of the evidence in the case because of the presence of the accused at the scene, trial date being within the three-year threshold, and Ferguson being charged with murder within a year of his release from prison for stealing and firearm possession convictions.
Mr Collie submitted that Justice Turner further considered the seriousness of the offence, the possibility of Ferguson absconding and possible interference with witnesses in the case.
In the end, Justices Allen, Blackman and John dismissed Ferguson's application for bail pending trial.