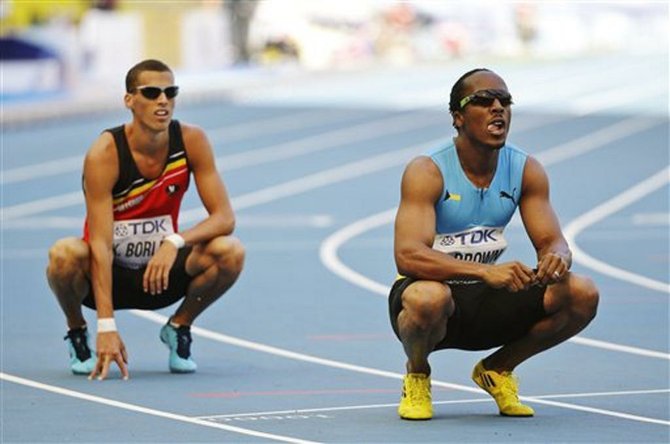 By BRENT STUBBS
Senior Sports Reporter
bstubbs@tribunemedia.net
With his second annual Invitational cancelled due to the unavailability of the new Thomas A Robinson National Stadium, quartermiler Chris 'Fireman' Brown has turned his attention to regaining his international glory at the IAAF World Indoor Championships.
In preparation for the trip to Sopot, Poland, for the championships, scheduled for March 7-9, Brown turned in what was then the second fastest time in the world to win the 400 metres in 45.93 seconds at the Sainsbury's Glasgow International Match on Saturday, January 25.
Brown, 35, also ran on the second leg of the Commonwealth Select team with the Bahamas 2012 Olympic gold medal squad of Demetrius Pinder, Ramon Miller and Michael Mathieu that ran 3:07.30 for second behind Great Britain's winning time of 3:06.27. Coming off his bronze medal performance at the 13th IAAF Indoor Worlds in Istanbul in 2012, Brown said he was impressed with his time in Glasgow because it was the fastest he has done in a season opener.
"The Lord is continuing to use me and to continue to show people that you just need to have a little bit of faith," Brown said. "I went into the meet with a lot of faith. I didn't know what I would have run, but I knew I was in great shape.
"So to come out with a 45 seconds is only letting me know that me and my coach are doing a lot of things right and the Lord is guiding my steps and so I'm thankful for the victory and the time that I ran."
Since then, Brown's time has slipped to fifth place on the list that is now headed by Trinidad & Tobago's Deon Lendore (45.47) and American Arman Hall (45.63) after they took first and second respectively in Fayetteville, Arkansas.
Although he felt he was in "great shape," Brown admitted that he didn't expect to run as fast as he did. But he was delighted to have thrown down the gauntlet for those competitors he intends to face in Sopot.
"Me and my coach have been working hard to fine tune some things and so we are still doing the off season base and to know that I'm at this point in the game, it just shows that hard work does pay off," he said.
"It was also the first time that I've put on spikes for the year, so I feel good because coach Innocent has been doing a great job with me. We work well together and I look forward to the rest of the season.
"My job is to go out there and represent the Bahamas at my best. I look forward to getting on the podium. So one of my goals this year is to get on the podium again and continue to set the trend for the other Bahamian quartermilers."
Since making his debut at the World Indoors in Birmingham in 2003, Brown has medalled every trip, except in that year and again in Budapest in 2004. He got his first medal with a bronze in Moskva in 2006 when he ran a personal best of 45.78, which is also the national record. In 2008 in Valencia, Spain, Brown struck for the bronze for the first time. In 2010, he went to Doha, Qatar where he came up with the gold medal. Then in 2012, he dropped back to bronze as he trailed team-mate Pinder, who got the silver for the Bahamas' first pair of indoor medals in the same event.
"As long as I get to the line and I'm 100 per cent healthy and everything is flowing in my direction, I know I can do it with God on my side," Brown said. "As long as I stay focused, I can definitely get on the podium. I just have to be ready to go out there and execute my own race and be ready to go for it."
Brown acknowledged that he would have liked to host his second invitational but not having to take the time out from his training as he did last year, he's thrilled that he won't have the distraction as he attempts to achieve his goal.
"I'm just focusing right now directly on training," he said. "With that said and done, I know I can definitely focus on my training and just get ready for the indoor season."
As for the relay team, Brown said it was good to have everybody back together after he was the only one to suit up at the IAAF World Championship in Moscow, Russia for the relay last year.
Pinder, Mathieu and Miller were all injured prior to the championships. While Pinder never made the trip, both Mathieu and Miller did. Mathieu, however, didn't compete and Miller went down in the 400.
Brown teamed up with Wesley Neymour, LaToy Williams and O'Jay Ferguson in 3:02.67 for fourth place in their heat and 13th overall, leaving the Bahamas without a lane in the final.
"We were just getting the dust off," said Brown about their Olympic team reunion. "It's going to take some time to shake off the rust, but I'm sure that my training partners all went home knowing what we all have to do in order to get on the podium in the 4 x 4, which we have never done before.
"I'm sure that we will go out and do something big for the country. We all know what we have to do, so it lined us pretty good for what is ahead of us. But I'm pretty confident that we can go there and do it. That let us know that we have work together, but we look forward to bringing some excitement back to the Bahamas."
Brown said his only hope is that everybody can go to Poland healthy.