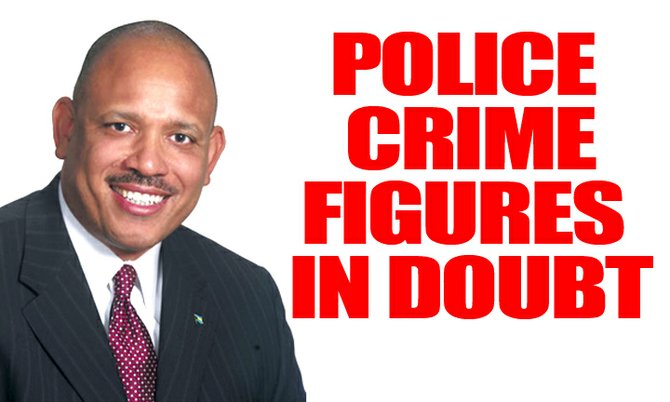 By RASHAD ROLLE
Tribune Staff Reporter
rrolle@tribunemedia.net
FIVE hundred and nineteen people were shot or stabbed in 2013 according to official Princess Margaret Hospital statistics – yet only 10 attempted murders were recorded by the Royal Bahamas Police Force for the same period.
It is unclear whether the incidents recorded by the Princess Margaret (PMH) were classified as serious or not by the police force.
Nonetheless, the statistical disparities raises questions about the classification of criminal activities and the possible manipulation of crime statistics, Dr Duane Sands, Director of Accident and Emergency at PMH, told The Tribune yesterday.
His comments come at a time when members of the public continue to question the accuracy of crime statistics provided by the police force.
"There seems to be a significant difference between the numbers we presented at the hospital and the numbers reported by the government or the police force," Dr Sands said.
"Now, somebody ought to explain that. Why is it that we have 278 shootings recorded in the records of the Princess Margaret Hospital, not inclusive of Doctors Hospital, not inclusive of the Rand Hospital, yet the police can only account for 170-odd shooting incidents?"
Dr Sands said police officers often interview patients who were shot or stabbed in the hospital, but there is still no system that ensures such patients are referred to the police.
However, he said, the possible failure to refer assaulted patients to the police does not account for the disparity between the numbers provided by PMH and the numbers provided by the police force.
"If we were off by 10, were off by 20, were off by 30, I would say we could possibly explain it on that basis," he said. "But when you're off by several hundreds, now you're getting into questions about definitions. How are we defining attempted murder? As a physician, I have raised this issue a number of times before. One of the things we believe is that a patient comes in having been seriously injured, say they've been stabbed in the heart or they've been shot through a major blood vessel in the body, and then when we follow it up at some point in time we come to find out that if the patient does well, the accused gets charged with causing harm. Now, even if that happens as a one off, you would say okay, maybe that's not too bad, but here we have in 2013, 278 shootings and 241 stabbings and in totality that comes out to more than 500 incidents. Yet in totality (the police force is) saying we have less than 160 murders or attempted murders; somehow that doesn't add up. I raised the question before as to whether or not the numbers that we have been quoting previously have either by happenstance or deliberate manipulation, led the Bahamian public into thinking that things are rosier than they actually are."
Dr Sands said physicians at the hospital have complained that the impact of violent crime on providing care to patients has been "unbelievably onerous."
He added: "I have the greatest respect for the Commissioner of Police and the question I would have to raise would be who has made a decision about how these crimes are listed and is there a desire to have the public believe that things are better than they really are, particularly when the public is saying that they are afraid and complaining that notwithstanding efforts being made, crime is unacceptably high?"
While refraining from saying that police statistics should be completely discredited, Dr Sands said Bahamians should bear in mind that the police force is "not the only source of information in this country."
"Bahamians should have access to information so they could make up their own mind," he said.
As a trauma surgeon, Dr Sands said he reviews data about Accident and Emergency statistics every year.
"I don't think there is any running from the numbers. It's painful for Bahamians to acknowledge, but it is reality," he said.