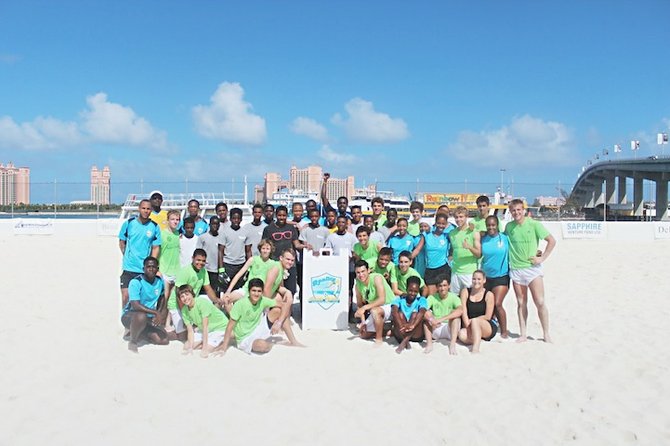 QUALITY Beach Soccer Club's 16-and-under men's squad dominated this past Sunday in an international friendly club match against St Stephen's Soccer Academy out of Austin, Texas.
The up-and-coming beach soccer players exhibited superior athletic capability, skill and will to defeat St Stephen's 4-1.
St Stephen's Soccer Academy is one of the best soccer academies in the United States where students enrolled in their programme focus heavily on academics and a rigorous soccer programme.
This St Stephen's team left The Bahamas 2-2 in their four matches over the weekend, where all of The Bahamas' victories came off of the sand.
Along with the under-16 boys' team, the QBSC co-ed team also came away with a win.
"This is again a momentous moment for beach soccer in the country," said Ehren Hanna, president of Quality Beach Soccer Club. "This is just a taste of what is to come for Quality Beach Soccer locally and internationally.
"We have proven once again on a level playing field that we possess the ability to score goals against some of the world's elite soccer players."
Club executives offered special thanks to BFA executives Anton Sealey and Fred Lunn and also congratulated all the athletes who participated in the series of friendlies.
Noteworthy performances were turned in by goal scorers Matthew Richardson and Jaime Thompson, with a hat-trick.
"Quality Beach Soccer Club is very proud of our under-16 squad for their skill and growing potential, the future is bright for Quality Beach Soccer and The Bahamas," said Hanna.
"These young men will pave the way for Bahamian soccer players in the country following in the footsteps of young Valin Bodie who was scouted to play internationally during the Major Beach Soccer Championships with Quality Beach Soccer Club in Clearwater, Tampa this past December."
Bodie is now playing on LIAC New York's under-18 squad. This squad is playing in one of the most prestigious under-18 world tournaments called the Viareggio Cup in Italy where the likes of players such as Alexander Pato, Pirlo, and Mario Balotelli played.
"It is clear that although beach soccer is an alternative to traditional soccer, it can lead to opportunities to play both at a high level. The Bahamas men's national beach soccer team is currently ranked No.1 in the Caribbean and No.6 in the region by FIFA of which Quality Beach Soccer players are a part of," Hanna said.
"Quality Beach Soccer is looking to be a leader in the region by establishing the first professional team. With an exciting calendar planned for the club in the 2014 year they look forward to more competition and exposure for the players and the country."
Club sponsors include Grant Thornton, Heavy Marine and Foundations, Bonds Cay, Sapphire Venture Fund, Delucci, Davis and Co., Mogul, X-Press It, Home and Away, 5 Star Snorkel and Quality Home Centre.