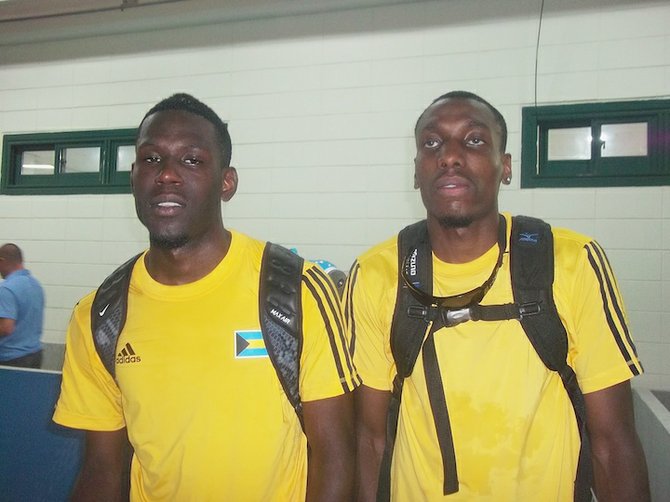 By BRENT STUBBS
Senior Sports Reporter
bstubbs@tribunemedia.net
AFTER skipping the IAAF World Championships last year because of an injury, Trevor Barry is working his way back into form to return to action next month at the IAAF World Indoors in Sopot, Poland.
Barry, the 2011 World Championship bronze medallist, is hoping that he can attain the qualifying mark of 2.30 metres or 7-feet, 6 1/2-inches that will make him eligible to compete at his first World Indoor Championships, scheduled for March 7-9.
In a pair of meets in Europe a week ago, Barry cleared 2.24m (7-4 1/4) and 2.25m (7-4 1/2) as he began his trek back to international prominence.
"It was a familiar feeling. It felt good," said Barry of his first taste of competition in more than nine months. "I'm just taking it in strides trying to get back in tip- top shape. My coach Keith Parker was pleased with my results, but he's expecting much more from me."
Barry, 30, competed in a pair of meets in the Czech Republic where he faced some of the top jumpers in the world, including his Bahamian rival, Donald Thomas.
"Once you get into the atmosphere, the performances get better and better," Barry said. "My training has been going great and so I was pleased to get in the performances that I turned in."
With Thomas, whom he's been battling with on the national front for the past few years, competing in the meets, Barry said he expects for the competition to be fierce.
"It's always good to have a fellow Bahamian competing in the event," said Barry, who expects to have a lot more competition with Ryan Ingraham and Jamal Wilson both making headlines here at home in the Bahamas. "He always brings out the best in me. So I really enjoy competing with and against him."
While Thomas has already secured his berth into the World Indoors from last year, Barry is still on the bubble. He needs to clear the qualifying mark of 2.30m (7-6 1/2), which he attempted in the Czech Republic, only to fall short after he missed up on his attempt at 2.28m (7-5 3/4).
"One of my goals this year is the World Indoors," said Barry, who will attempt to hit the qualifying mark when he competes in a meet at his home training site next weekend in Fargo, North Dakota. "I'm looking forward to accomplishing that goal. I came very close to doing it."
Whether or not he achieves the feat, Barry said another goal for this year is to compete at the Commonwealth Games in Glasgow, Scotland, July 23 to August 3. At the last games in Delhi, India in 2010, Barry picked up the silver medal.
Additionally, Barry could also be on the team heading to the Central American and Caribbean Games, scheduled for November 15-30 in Veracruz, Mexico. Barry was a two-time silver medallist at the 2010 CAC Games in Mayaguez, Puerto Rico and 2006 CAC Games in Cartagena, Colombia.
He was also a gold medallist at the 2011 CAC Championships in Mayaguaz and silver medallist at the 2008 CAC Championships in Cali, Colombia.
"I'm slowly working my way back to form," Barry said. "I'm just happy to be able to get back out there and compete again."