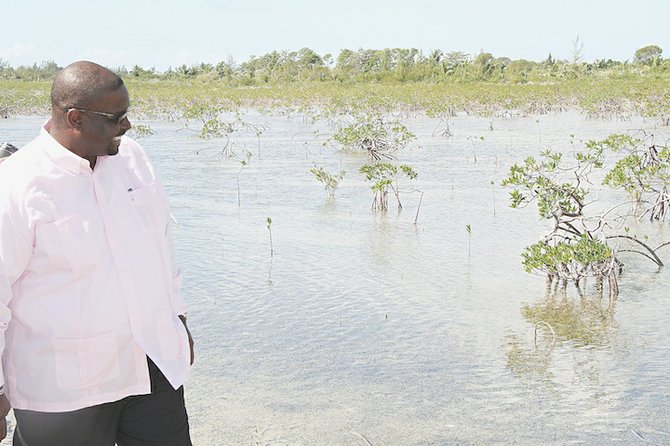 THE Supreme Court has given environmental group ReEarth permission to bring Judicial Review proceedings challenging the permits/approvals received by the Blackbeard's Cay project – a move the developer warned could jeopardise "over 100 jobs" and his $8 million investment.
Samir Andrawos, the principal behind Blue Illusions Ltd, seemed bewildered when informed about the judge's decision and admitted there was "a lot to be concerned about", but pledged that he and his attorney Charles Mackay would defend Blue Illusions' interest "the best we can".
The environmental group, in particular, is challenging the permit that allowed the attraction, located off New Providence's coast opposite Sandals Royal Bahamian Resort & Spa, to import eight dolphins into the Bahamas.
Mr Andrawos explained that he had effectively 'inherited' this licence from Blackbeard's Cay's former Bahamian ownership group, and had merely been "grandfathered" in.
The businessman, originally from St Maarten, said he would not have taken over the attraction and invested in the Bahamas if he had to obtain the dolphin permit himself.
Yesterday, he said: "This is not good. If this is how they are treating new investors, this is not good," he said. "For every investor coming to the Bahamas, it's not looking good.
Hinting that sinister motives may be behind ReEarth's action, Mr Andrawos added: "Sometimes you have to ask yourself what is going on. [Perhaps] there is some hidden reason."
Meanwhile, ReEarth founder Sam Duncombe said she was "in heaven" after Justice Stephen Isaacs' decision.
The Supreme Court judge also ordered the four government defendants – Prime Minister Perry Christie; V Alfred Gray, minister of agriculture and fisheries; Michael Braynen, director of fisheries and marine resources; and the Town Planning Committee – to make full disclosure of all permit, licence, lease and approval applications by Blue Illusions, and what they had granted in return.
And Justice Isaacs also ordered that a speedy trial take place.
The Blackbeard's Cay project had come under fire early on from Bay Street-based retailers and other merchants, who feared it was being designed as an Atlantis-style Marina Village destination that Carnival would take all its cruise passengers to, denying them business.
Mr Andrawos alluded to this, describing himself as "low key" and not owning a single shop on Blackbeard's Cay, "not even a t-shirt shop".
Blackbeard's Cay's former Bahamian shareholders include Insurance Management chief, Cedric Saunders; Spanish Wells community leader, Abner Pinder; and well-known media owner, Charles Carter.
Meanwhile, ReEarth is also claiming the government allegedly admitted to environmental activists that it cannot enforce its own planning laws because it would "go bankrupt" in trying to do so.
The group alleged the Department of Physical Planning's head confessed to them that the government lacked the finances to hold public consultations on every development project.
The claims, contained in ReEarth's filings with the Supreme Court, contain details of a June 6, 2013, conversation that allegedly took place over Blackbeard's Cay between Michael Major and Sonya Alvino, ReEarth's head of communications.
"In the course of this telephone call, the director of physical planning confirmed that no public meetings had been held in relation to the facility [Blackbeard's Cay] because it is 'too costly to hold public meetings on every development' taking place and 'if we were to do that we would be 'bankrupt'," ReEarth's amended Judicial Review application alleges.
This, the environmental group claims, violates the Planning and Subdivisions Act 2010, which required a public hearing to be held prior to the Town Planning Committee's consideration - and approval - of Blackbeard's Cay's site plan.
• See Tribune Business for more